5 Best Parks Near Playa Del Rey: Beaches, Playgrounds & Trails Near Your LA Neighborhood
Posted by Courtney Korb on Monday, July 24, 2023 at 11:51 AM
By Courtney Korb / July 24, 2023
Comment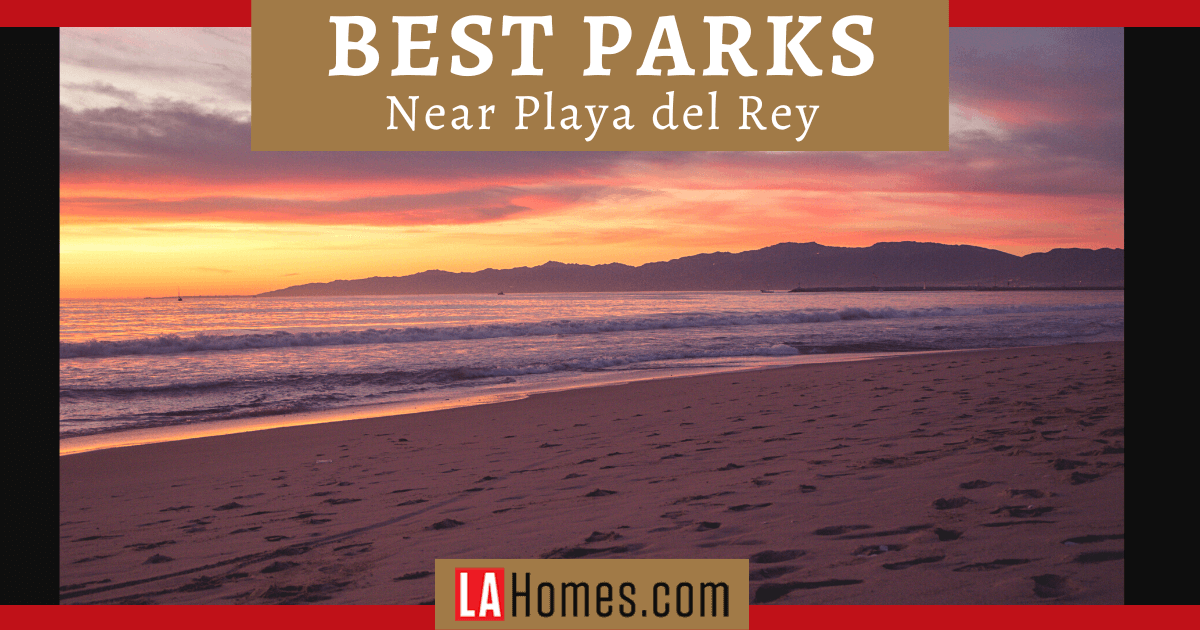 Boasting a prime oceanfront location, it's no surprise that the Playa del Rey neighborhood is home to some of the best parks in Los Angeles. From the nature lover's paradise of the Ballona Wetlands Ecological Reserve to the ample sports facilities at El Segundo Recreation Park, there's a park for every preference. These fantastic parks not only offer a breath of fresh air but also add a valuable boost to nearby homes in Playa del Rey. Whether you're considering moving to Playa del Rey or just want to spend a day by the ocean, the neighborhood's finest parks are sure to provide the outdoor activities you're looking for. Sandy beaches, scenic walking trails, and fun-filled playgrounds await in the best parks near Playa del Rey!
Del Rey Lagoon
Del Rey Lagoon is a picturesque getaway located a short walk away from the beach. The park spans six acres or 24,000 square meters and measures about 1,250 feet long and 350 feet wide, making it a spacious venue for various outdoor activities. In the past, the lagoon was used for sailing lessons, but today, it provides pleasant scenery to Playa del Rey's oceanview homes and space for ducks to swim peacefully.
The Playa del Rey Children's Playground promises hours of fun playtime with numerous slides, climbing obstacles, and a swing set. Recreational amenities include baseball fields and basketball courts that allow sports enthusiasts to play pick-up games or get involved with community leagues. For added convenience, the park offers two designated parking lots. The first is located on Pacific Avenue, on the park's western side, and the second can be found to the east, off Esplanade Street.
Playa Del Rey Beach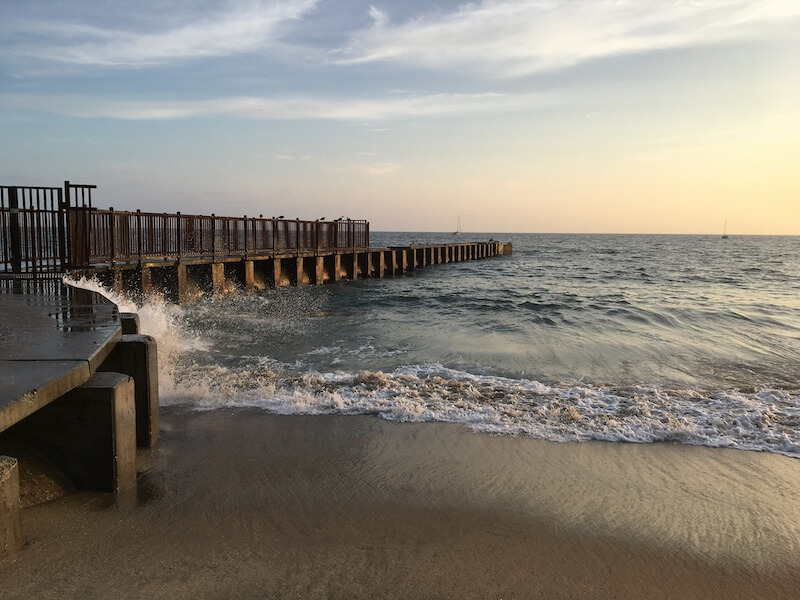 Conveniently located across the street from Del Rey Lagoon, Playa Del Rey Beach is the neighborhood's crown jewel. Locals affectionately call it "Toes Beach"—a reference that pays homage to the beach's history as a prime surfing location in the 1960s. Whether you're looking to catch waves or just some up some rays, Playa Del Rey Beach is the place to be.
The Ballona Creek Bike Path offers a unique way to explore this beachfront area. Stretching approximately seven miles, this well-maintained path invites cyclists to journey from Syd Kronenthal Park in east Culver City, passes through the Ballona Wetlands, and connects with the Marvin Braude Bike Trail, which continues for another 22 miles. Volleyball enthusiasts enjoy its two sections of courts, set against the scenic backdrop of the Pacific Ocean.
After a day of play, beachgoers won't have to venture far to find a tasty bite. Nearby Culver Avenues presents an array of delicious restaurants such as Playa Provisions, The Shack, and Cantalini's Salerno Beach.
Westchester Recreation Center
The Westchester Recreation Center is known for its wide range of recreational facilities and amenities. Situated in the nearby Westchester neighborhood, this park serves as the local hub for sports enthusiasts of all ages. The park boasts a well-maintained, lighted baseball diamond, which allows for evening games and practices. The outdoor basketball court provides space for lively pick-up matches, while the indoor courts are perfect for any time of day.
The children's play area features various play structures, swings, and other recreational equipment, creating a safe and enjoyable space for kids to run, climb, and play. The skate plaza draws skateboarders and extreme sports lovers from all over the city to enjoy its ramps, rails, and ledges. Finally, the adjacent Westchester Golf Course is a public facility with 18 holes, making it easy for those in Westchester's golf course homes or the surrounding areas to perfect their game.
Ballona Wetlands Ecological Reserve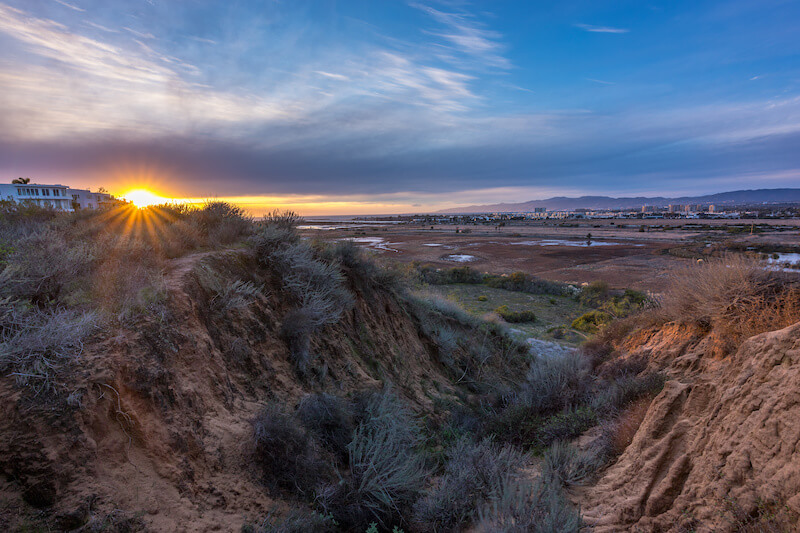 The Ballona Wetlands Ecological Reserve is a natural oasis teeming with biodiversity. Spanning over 600 acres, this remarkable wetland ecosystem offers a serene escape from the urban hustle and bustle, welcoming visitors with its tranquil atmosphere and breathtaking vistas. As one of Southern California's few remaining coastal wetlands, the Ballona Wetlands Reserve serves as a vital habitat for numerous native plant and animal species and a crucial stopover for migratory birds along the Pacific Flyway.
The best place to start your visit is at the Ballona Discovery Park, just across the 1 from Playa del Rey and the rest of the reserve. This park offers many captivating features dedicated to informing visitors about the habitat's essential ecological role. The park boasts meticulously curated gardens, each serving as living examples of the area's original ecosystem. As a renowned destination for birdwatching, Ballona Discovery Park provides world-class opportunities to observe and study avian species in their natural habitat. Additionally, the park has a captivating, kid-friendly interactive learning exhibit that engages young explorers with hands-on activities and immersive displays illuminating the wetlands' wonders.
El Segundo Recreation Park
Whether you're looking for practice or play, Recreation Park in the nearby neighborhood of El Segundo is the perfect place to go. One of the standout features of El Segundo Recreation Park is its lighted tennis and pickleball courts. These courts offer the ideal setting for both casual and competitive play.
Baseball and softball lovers will find plenty of ways to hone their abilities. Recreation Park is home to three diamonds that can be used for league games or team practices. The on-site batting cages provide automated pitches at various speeds, allowing people to start slow and work their way up.
Play for the Day at Playa del Rey's Best Parks
Living in Playa del Rey means unbeatable access to many amazing parks. Explore the teeming biomes of the Ballona Wetlands Reserve, lounge on the sand at Playa Del Rey Beach, or play your favorite sports at the local recreation centers. No matter where you go, you'll find these parks near Playa del Rey offer a slice of Los Angeles that you won't want to miss.