6 Best Parks Near Cypress Park: Find Your Serenity in the City
Posted by Courtney Korb on Monday, April 24, 2023 at 11:08:59 AM
By Courtney Korb / April 24, 2023
Comment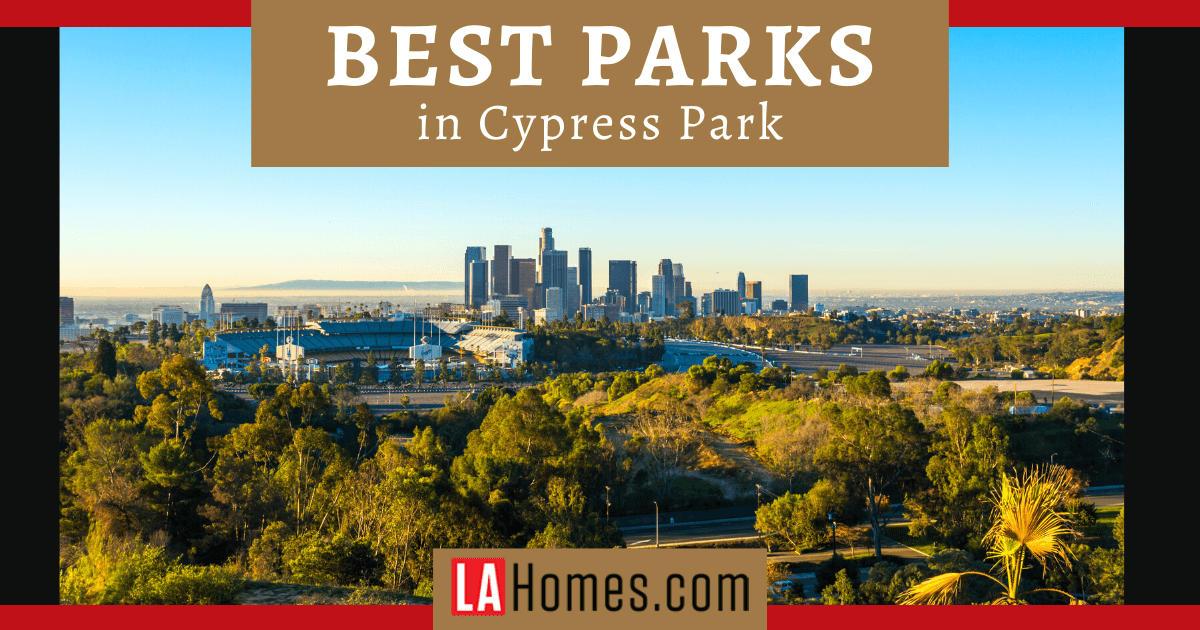 Cypress Park is a vibrant and diverse neighborhood located in the northeastern section of the city of Los Angeles. Known for its stunning views, historic landmarks, and ample green spaces, the area is a popular destination for locals and tourists alike. With its proximity to the Los Angeles River and scenic hiking trails, it's no surprise that Cypress Park boasts some of the city's most beautiful parks.
From the tranquil greenery of Ernest E. Debs Regional Park to the fun at Rio de Los Angeles State Park, there's something for everyone in this hidden gem of Los Angeles. Whether you're looking for a peaceful escape from the bustle of the city or planning on moving to Los Angeles, the best parks in Cypress Park offer an oasis of natural beauty and recreational opportunities.
Elysian Park
Elysian Park is a 600-acre park directly across the Los Angeles River from Cypress Park. The Taylor Yard Pedestrian Bridge in Cypress Park connects to the Elysian Valley, so it only takes a few minutes to bike there from the neighborhood. Much of Elysian Park wraps around historic Dodger Stadium, and visitors to the park can often hear the fans cheering during home baseball games.
This park was created by a city ordinance in 1886, and many trails, roads, and other improvements have been added over the years. The extensive biking and hiking trails that wind through the park are a big draw for visitors, not to mention one of the many reasons cyclists love Cypress Park. There are multiple children's playgrounds and picnic areas scattered throughout Elysian Park. People can also explore the Chavez Ravine Arboretum, the Elysian Park Arboretum, or the Marian Harlow Memorial Grove. The park has a disc golf course, little league fields, and soccer fields.
Leashed dogs are welcome on the trails of this massive park with their owners. Elysian Park is open from 5:00 a.m.–8:00 p.m. daily.
Cypress Park & Recreation Center
Most people who live in the neighborhood are within walking distance of Cypress Park & Recreation Center. Its location at the corner of North San Fernando Road and Pepper Avenue makes it easily accessible. The location has various indoor and outdoor facilities and offers family programs that the City of Los Angeles Department of Recreation and Parks organizes.
Valuing recreational amenities is one of the signs Cypress Park is the right LA neighborhood for you. Inside the Cypress Park rec center is a stage, auditorium, gymnasium with a weight room, and lighted indoor basketball courts. In the park outside the rec center, there are barbecue pits and picnic tables, lighted volleyball courts, a multipurpose sports field, a baseball/softball field, and a shaded children's playground area. The park section is entirely fenced, making it a safe place for kids to run and play without parents worrying about nearby traffic.
The rec center has many different sports and fitness programs for children throughout the year. Sports include the ones listed above, as well as dance, cheer, martial arts, and Frisbee sports. Summer camp programs at the rec center take kids to local swimming pools, splash parks, and libraries. It also hosts arts and crafts sessions, sports clinics, and more.
Los Angeles State Historic Park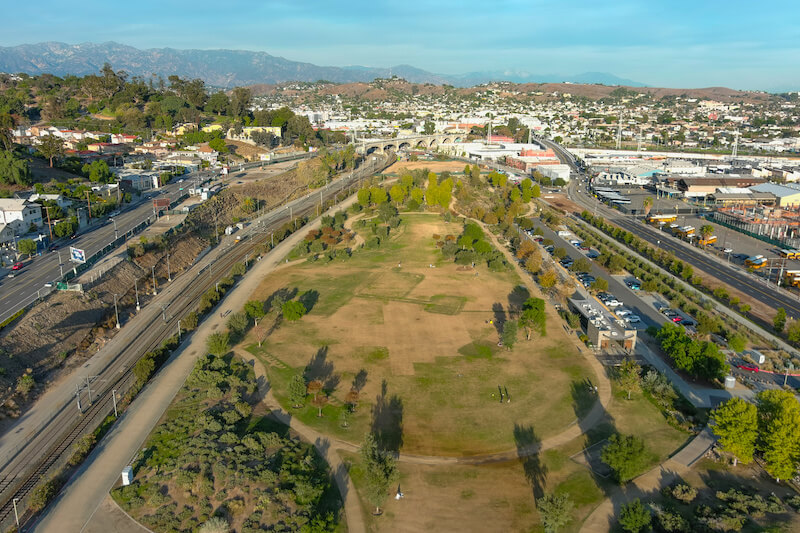 Los Angeles State Historic Park is directly south of the Cypress Park neighborhood. It is across the Los Angeles River and south of Elysian Park, listed above. This 32-acre park is visited by many people each year to enjoy the views of Downtown Los Angeles. The main entrance is on the south side of the park, and just inside the entrance is the Cargo Snack Shack, where visitors can pick up a burger, fries, and a milkshake.
One fun activity to visit at this park is the LA Rivers Farmers Market, which takes place on Thursdays from 3:00–7:00 p.m. It's a great place to find healthy and organic fruits and vegetables from local growers, and they have live music each week. Plus, there are public art displays and large grassy fields for everyone to enjoy.
There is no fee charged to enter Los Angeles State Historic Park, though there is a fee to park. The price is $2 per hour, or a maximum of $8 per day, which is cheap for L.A. County. Disabled and senior parking is available for a reduced rate. Free parking is available along the streets surrounding the park, but watch for "No Parking" signs.
Rio de Los Angeles State Park
The Rio de Los Angeles State Park now occupies the area that was once the Taylor Yard rail switching facility. It sits on the northern part of the Cypress Park neighborhood, next to the Los Angeles River. What was once an industrial area in the heart of Los Angeles is now a tranquil place filled with serene hiking trails, native plants, and wildlife that is starting to return to the area. Parking and use of the facilities are free for everyone. The park's gates open at 9:00 a.m. and close at 10:30 p.m.
Several hiking trails wind through this park, and picnic facilities are available on a first-come, first-serve basis. Public restrooms and drinking water fountains are also on opposite sides of the park. Just inside the north entrance to the park, there is a recreation center and a shaded children's playground for the kids to enjoy. In the park's center is a large and well-kept field for soccer and other sports. Dogs are allowed inside Rio de Los Angeles State Park with their owners but must always remain on a leash.
Elyria Canyon Park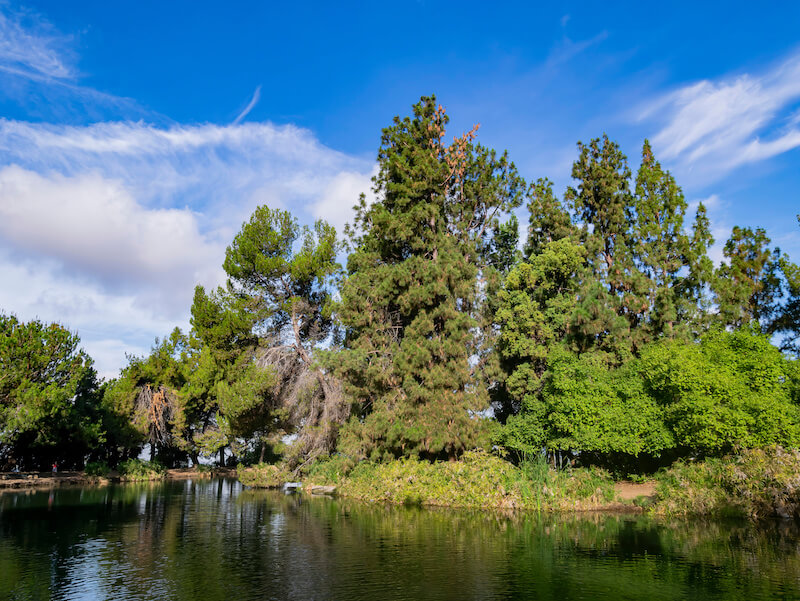 Elyria Canyon Park is located up the hillside from Cypress Park in the Mount Washington neighborhood, with its main entrance at 1550 Bridgeport Drive. The park has about 35 acres of natural habitat to explore and is managed by the Mountains Recreation & Conservation Authority (MRCA).
The park is a mostly undeveloped natural area, with scenic hiking trails running through it. The various trails lead to viewpoints where visitors can see the Griffith Observatory, the Los Angeles River, and the iconic skyline of Downtown Los Angeles. Some local flora that can be viewed here includes fragrant coastal sage scrub, chaparral, and purple needlegrass. Elyria Canyon Park is also home to an extensive black walnut woodland. There is not much wildlife in the park, although numerous ground squirrels and birds call it their home.
Ernest E. Debs Regional Park
The Ernest E. Debs Regional Park is east of Cypress Park, opposite the Arroyo Seco Parkway in the Rose Hill neighborhood. The main entrance is from the park's eastern side, on Debs Park Road. It can also be accessed from Boundary Avenue to the south. This 282-acre park was first developed in the 1960s and turned over to the City of Los Angeles in 1994, and is named for longtime County Supervisor Ernest E. Debs.
The park has numerous hiking and biking trails running through it. The trails are open every day from sunrise to sunset. The park is also home to the Audubon Center at Debs Park, which has wildlife programs several days each week. There are barbecue pits and many picnic tables scattered throughout the park.
California walnut and California oak are the main types of trees in the woodlands here. Hiking up to the top of the hillside offers excellent views of Downtown Los Angeles, the San Gabriel Mountains, and the Arroyo Seco. Several trails also lead to a beautiful wooded pond in the park's center.
Cypress Park's Great Parks
Cypress Park is a neighborhood with many beautiful parks to explore and enjoy. From some of the best views of Los Angeles to recreational activities, there is something for everyone to appreciate. The parks are also a great way to connect with nature, relax, and spend quality time with loved ones. So grab your sunscreen, pack a picnic, and head out to discover the best parks in Cypress Park.