5 Best Parks in Burbank: Playgrounds, Soccer Fields & Trails
Posted by Courtney Korb on Tuesday, December 14, 2021 at 5:58 AM
By Courtney Korb / December 14, 2021
Comment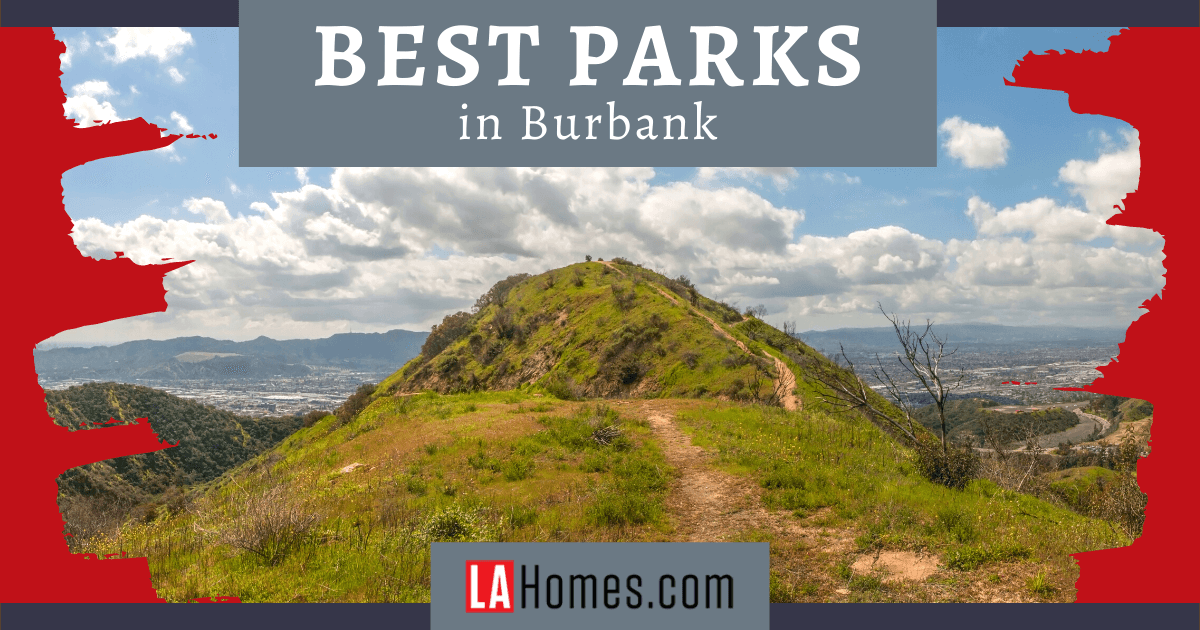 Recognized for its luxury estates and gated community homes, the Burbank real estate market is one of the most desirable in California. The city sits in the beautiful San Fernando Valley and is just 12 miles from Downtown Los Angeles. Burbank is known for its excitement and entertainment. It's where many movies are shot and where people go to play at various theme parks. Still, the local parks provide a peaceful respite in every Burbank neighborhood. Keep reading to learn about the best neighborhood parks in Burbank.
Verdugo Mountain Park
Verdugo Mountain Park Amenities
Hiking trails
Picnic areas
Geocaching
While Burbank is residential and commercial, Verdugo Mountain Park offers a natural haven. It was created to provide a nature preserve in the heart of an urban area. Much of the surrounding area is relatively urbanized, but this park offers a nice change of scenery for many in the community. As such, it's maintained for its biodiversity, and dogs are not allowed here. But don't worry, there are plenty of other dog-friendly parks and places in Burbank.
So why visit? Verdugo Mountain Park is an excellent location for those that love to hike. Though the terrain can be challenging, the natural beauty and stunning views are always rewarding. It's available from dawn to dusk each day. Located at East of Sunland, South of La Tuna Canyon Road in Los Angeles, this mountain park goes with rolling hills and densely forested areas for miles. The property itself is a piece of the San Gabriel Mountains, though it doesn't connect directly to larger trails. As noted, it's meant to be kept as natural as possible to protect the biodiversity located here, but spending a few hours on the trail over the weekend can offer a solid dose of vitamin D and fun in nature.
Wildwood Canyon Park
Wildwood Canyon Park Amenities
Hiking trails
Picnic tables
Public restrooms
Wildwood Canyon Park is the type of park many in Burbank go to each day for a long walk or a hike. It is located at 1701 Wildwood Canyon. The park is open from sunrise until 30 minutes after sunset. It's also a simple park. There are no playgrounds here, but rather long walking trails and picnic tables to enjoy lunch with friends. Restrooms are also available near the parking lot.
Those looking for about a 5-mile hike round trip will find it here. Reaching the top of the trail, near the radio tower, allows hikers to see all of Burbank laid out below. It's also possible to see much of the downtown Los Angeles area here. This isn't an easy hike as the trails tend to be rocky, with some inclines throughout the path. The dramatic views are worth the climb, especially when timed with the sunrise or sunset. During the spring, the wildflowers create a soft scent in the air.
The park's highest point is at 918 ft. It's possible to bring along a dog for the trip, but there are no water fountains along the trail. There's also limited shade on this hiking trail, making a hot day more challenging for hikers.
Brand Park
Brand Park Amenities
Brand Library
Whispering Pine Tea House & Friendship Garden
Doctors House Museum & Gazebo
Brand Studios
Located near the city of Glendale at 1601 West Mountain Street, Brand Park is a community-friendly park and historic site. This 31-acre park sits right at the base of the Verdugo Mountains, providing some beautiful views. Established in 1904, the park was designed by Nathaniel Dryden and designed based on the East Indian Pavilion presented at the 1893 Columbian World Exposition held that year in Chicago. In 1969, an additional 21,000 square feet was added to the park. This included a sculpture court, recital hall, and the Brand Park Studios. Much of the area was kept wooded, though open lawn space with formal gardens was also a part of the early design.
Much of that is gone today, and instead, a location with basketball courts, softball fields, and a children's playground exists. There are also hiking and biking trails around the park. The trail leads hikers to the Brand Family Cemetery and beautiful views. During the warmer months, a children's wading pool is also available. Many people come to use the picnic areas here. They offer a bit of shade and ample room to spread out. Also notable, Brand Park has a monument to the environmental movement, called the Miss American Green Cross statue, located right at the trailhead.
Brace Canyon Park
Brace Canyon Park Amenities
Ball fields
Basketball court
Picnic tables
Playground
Tennis court
Brace Canyon Park is a fun, community-style park that offers a welcoming, open feel with older trees and more modern amenities. It's often reserved for everything from family reunions to company events but open to the public each day as well. There are numerous picnic tables here and a full playground. It's a nice place for people to go and relax with the soft mountain breeze while the kids play. The park at 2901 Haven Way is open from sunrise to sunset. There's minimal private lot parking, and instead, many people park along the street.
Brace Canyon Park is in the Crest Ridge Drive and Scott Road residential area. It's a bit tucked into this area, making it private and relaxing. The tall trees here help create ample shade for relaxation after a bike ride through the area. This is also the location of several ball fields (lighted for late summer night fun) and a basketball court. There's also a smaller, lighted tennis court located here. Dogs are welcome here, too, and quite common to see with visitors.
Johnny Carson Park
Johnny Carson Park Amenities
Fitness equipment
Picnic tables
Playground
Stage
Walking trail
There's no doubt a visit to Johnny Carson Park is necessary for anyone that loved the famed comedian. This park is located at 400 S. Bob Hope Drive. Like most others, it's open from sunrise to sunset each day of the year. It, too, can be reserved for private events. There's a small stage here for those who wish to entertain others. The walking trail around the park is paved, making it a good option for those who want a short jog in the morning, or visitors can use some of the fitness equipment that's located throughout the park. Aside from these, there's a Little Free Library, picnic tables, and restrooms available as well.
The park is named after Johnny Carson, who many believe put Burbank on the map by building his successful career here. Once called Buena Vista Park, the park is right across the street from the NBC Studios. That's where the "Tonight Show" was taped. When Jay Leno took over as host of the TV show in 1993, he donated $15,000 to help build a playground at the park. That playground is now called the Tonight Show Playground. There's also a bronze plaque located on the western side of the park that has an image of Carson and some info about who he was.
Explore Burbank Parks Today
These local parks are included among some of the most fun things to do in Burbank. Although Burbank is known for production studios and proximity to the city of Los Angeles, the neighborhood parks provide a unique charm and daily relaxation.
Read Our Park Guides For Each City Below