Outdoor Activities You Can Do Every Day When You Live in Shadow Hills
Posted by Courtney Korb on Thursday, December 9, 2021 at 12:16 PM
By Courtney Korb / December 9, 2021
Comment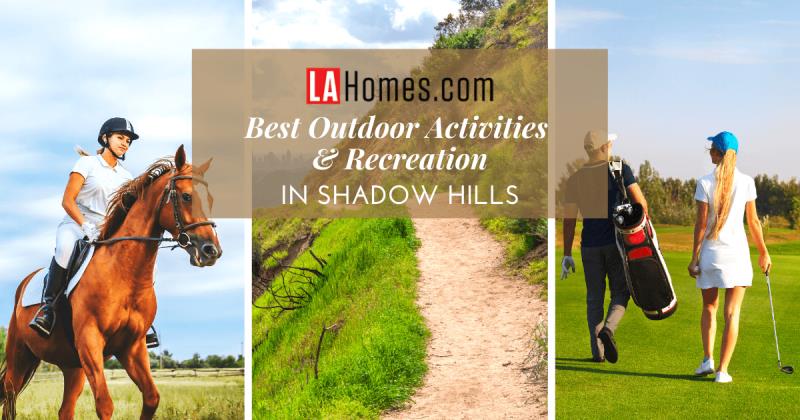 Shadow Hills is one of the last neighborhoods within the boundaries of the city of Los Angeles with equestrian zoning. It's no surprise, therefore, that this semi-rural community is big on outdoor activities. Nestled in the foothills to the northeast of the San Fernando Valley, Shadow Hills real estate boasts many luxury homes and single-family homes situated on large lots comparable in size to those of the most expensive LA neighborhoods. With multiple golf courses, a nearby lake, and plenty of open space in the nearby Angeles National Forest, the natural spaces and parks in Shadow Hills make outdoor fun an everyday habit for homeowners. Keep reading to learn about five outdoor activities you can do every day when you buy a home in Shadow Hills.
Go Horseback Riding
Horseback Riding Destinations
Hansen Dam Horse Park
Hansen Dam Recreation Area
Shadow Hills Equestrian Center
This rustic, mountainside community is a top choice for people who enjoy horseback riding in Los Angeles. The Hansen Dam Horse Park is just a 10-minute drive from Shadow Hills, off Foothill Boulevard. The horse park is a 38-acre equestrian facility that regularly hosts hunter/jumper shows and other events. They have 350 show stalls, plenty of parking, and public restrooms. There are numerous riding rings, and the park has access to miles of wooded trails in the Hansen Dam Recreation Area. They also offer horseback riding classes for those aged six and up.
The Shadow Hills Equestrian Center is one of the many equine resources in Shadow Hills. They offer Saturday Night Trail Rides for $200 per person for beginning horseback riders. Each attendee is paired with a horse for a beautiful 2-hour outdoor ride on 11 acres of property, followed by a ranch-style dinner. They also offer private riding lessons or group lessons, starting at about $75 per person.
Hike Verdugo Mountain Park
Verdugo Mountain Park Amenities
Multiple trails
Great views
Canyons
Verdugo Mountain Park is located about 10 minutes directly south of Shadow Hills. Easy access to the park via La Tuna Canyon Road is one of the perks to love about Shadow Hills. The park has multiple dirt trails for hiking, and the elevation allows excellent views of the San Fernando Valley and even downtown Los Angeles for those who trek to the top of the mountains. Several Verdugo Mountain hikes take travelers on a loop that arrives back at the starting point. Parking is limited at the various access points to the park (although parking is free), which tend to be in residential areas at the base of the hills.
The La Tuna Canyon Trail is a 4.5-mile hike that features a 975-foot elevation climb. It traverses two small canyons in the park. The Hostetter Fire Road hike sets off from La Tuna Canyon and climbs to the top of Verdugo Peak -- the highest point in the park. It's a 7.5-mile hike that features a 1,400-foot change in elevation. The Old Youth Camp Loop in Stough Canyon is a 2.6-mile loop with a 700-foot elevation change for a shorter trek. It's desert country, so be sure to bring a water bottle for each hiker!
Play Golf Near Shadow Hills
Shadow Hills Golf Courses
Hansen Dam Golf Course
Angeles National Golf Club
If you love golfing, take it as a sign that Shadow Hills is a good match for you. Shadow Hills has two spectacular golf courses just five minutes away from anywhere in the community. The Hansen Dam Golf Course can be accessed off Glenoaks Boulevard, just west of Shadow Hills. It's an 18-hole, par 72 course split into two distinct 9-hole sections. The course features some exciting elevation changes and plenty of tree hazards. Greens fees are $31 for 18 holes on the weekdays and $41 on the weekends and holidays. Golf Digest has given this course its "Best Places to Play" award.
The Angeles National Golf Club is located just next to Shadow Hills. Golfers can just drive under the 210 freeway on Wentworth Street, and the course is right there. Actors Will Ferrell and Don Cheadle both like to play at this beautiful 18-hole course, and it's been praised by multiple PGA players. The Nicklaus Design group designed this par 72 championship course, and it is considered a hidden gem by many golfers in the Los Angeles area. A creek winds its way through the course, and there are two lakes to navigate, as well as 54 bunkers. It's $95 per golfer to book a tee time.
Boat & Fish on Hansen Dam Recreational Lake
Hansen Dam Recreational Lake Amenities
Boating
Kayaking
Fishing
Swimming pool nearby
Hansen Dam Recreation Lake is just a 10-minute drive to the west of Shadow Hills. Foothill Boulevard traverses the north side of the recreational area, and Glenoaks Boulevard runs along the south side of the area. The lake is open for boating, kayaking, and fishing for most of the year. Swimming is not recommended in the lake due to plant bacteria that cause "swimmer's itch." However, there is a public swimming pool in the recreational area where swimming is allowed.
Anglers primarily catch largemouth bass, rainbow trout, and channel catfish in the lake. Bluegill, carp, and spotted bass are less common, but anglers sometimes catch those as well. A California fishing license is required to fish in the lake.
The recreational lake is open 365 days a year for boating and kayaking, from 7:30 a.m. to 6:00 p.m. Up to 15 boats at a time are allowed on the lake, and all boats must be less than 18 feet in length. Fueled boat engines are prohibited, although electric engines are allowed. The lake also has a designated area where hobbyists can operate remote-controlled boats.
Explore Tujunga Ponds Wildlife Sanctuary
Tujunga Ponds Wildlife Sanctuary Amenities
13 acres
2.7-mile trail
Lakes and ponds
Wildlife viewing
The Tujunga Ponds Wildlife Sanctuary is located on the Shadow Hills (west) side of the 210 freeway, just across from the Angeles National Golf Club. It's a 13-acre wildlife sanctuary that is completely fenced in and gated. Parking is free on the street outside the sanctuary. So long as visitors observe the rules of the sanctuary, they're free to hike through it or go horseback riding on the 2.7-mile trail that loops around the sanctuary. It takes about an hour and 15 minutes to hike around the sanctuary on foot. Note that hikers are guaranteed to get their feet wet, so plan accordingly. The sanctuary has two lakes, numerous ponds, and a lot of marshy territories. With so many chances to play and learn, exploring this lush sanctuary is one of the Shadow Hills activities kids love most.
The wildlife that can be viewed in the sanctuary includes bullfrogs, turtles, ducks, hawks, and egrets. It's a favorite spot for bird watchers in the Shadow Hills area due to all the species of water birds that can be viewed. Hikers are also allowed to bring their dogs into the sanctuary, so long as they remain on a leash at all times. The spring is an excellent time of year to tour the sanctuary because that's when the southern California wildflowers are in bloom. Honeybees are another common sight at this location.
Shadow Hills is a Hidden Outdoor Gem in Los Angeles
People living in Shadow Hills never lack outdoor activities. During the winter months, daytime highs are usually in the 60s, ensuring things to do in Shadow Hills all year long. It's hard to believe that hiking, wildlife viewing, horseback riding, and boating are all available in a Los Angeles neighborhood, but Shadow Hills is one of the last suburbs in the area where that is true.