5 Outdoor Adventures You Can Have Every Day in Porter Ranch
Posted by Courtney Korb on Thursday, March 24, 2022 at 9:10 AM
By Courtney Korb / March 24, 2022
Comment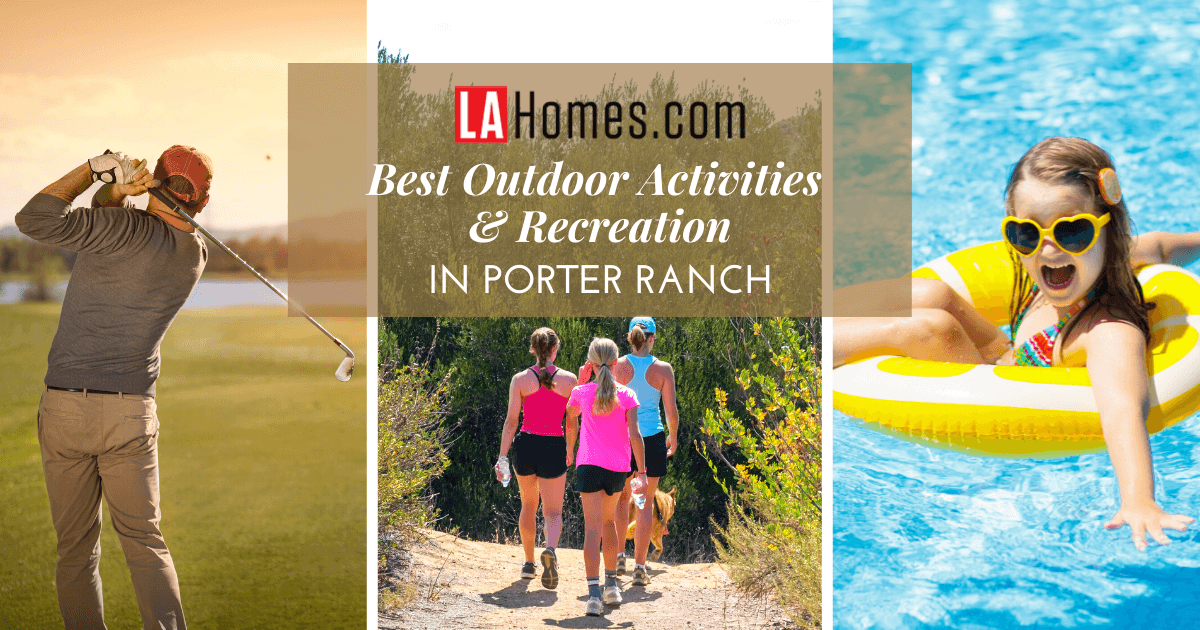 Those considering purchasing a luxury home for sale in Porter Ranch may be wondering if the community has everything they need to enjoy living there. This master-planned community from the Toll Brothers is noted for its amenities, many of which are significantly different from what's available in other areas of the city of Los Angeles. For those considering purchasing a home for sale in Porter Ranch, it helps to know what the area offers. The good news is that Porter Ranch is packed with things to do and most of the features residents need to enjoy a high quality of life. Keep reading to discover outdoor activities in Porter Ranch.
Water Recreation In & Around Porter Ranch
Porter Ranch contains a large children's splash park and Lahey Pool, some of the best ways to cool off on a hot summer day. Lahey Pool is available to community members in the View Ridge subdivision.
The Los Angeles Department of Recreation and Parks maintains the Granada Hills Pool located in the town of Granada Hills, a short drive from Porter Ranch. There are minimal fees for using the pool, though passes are available. Throughout the year, there are swimming lessons for kids and adults.
For those looking for more of a natural outdoor experience, Castaic Lake State Recreation Area is an excellent choice. It is the region's largest state water project reservoir, with over 11,200 acres of parkland and open space. The lake allows for boating, kayaking, sailing, and fishing. Wakeboarding, jet skiing, swimming, and other types of water fun can happen here. The upper lake is dedicated to power boating, sailing, jet-skiing, and fishing (especially for bass, catfish, and trout), while the rest of the lake is ideal for swimming. The lake is also an excellent place for non-power boating and canoeing. Castaic Lake State Recreation Area is a popular destination for a weekend of water fun.
Porter Ranch Hiking & Biking Trails
Porter Ranch has several trails and sidewalks in neighborhoods ideal for daily walks. For those looking for hiking experiences and bike trails, a few area options are worth exploring.
A popular option is the Limekiln Canyon Trail, a rather busy route in one of Porter Ranch's best parks. It spans 3.8 miles and provides access to the canyon's many features. Reaching an elevation gain of 423 feet, this out-and-back trail allows leashed dogs. A visit to Limekiln Canyon Trail provides an excellent trip for those who want to see natural habitats and beautiful flowers.
O'Melveny Park contains several trails perfect for hiking and biking. One example is Mission Point via the 5.6-mile Bee Canyon Trail, which takes three hours to complete. The terrain is rough in some spots, but the views are fantastic. It's a rather challenging hike for many.
O'Melveny Park Lop to Mission Point is a 4.2-mile hike that's more popular because it is a bit easier. The path is rocky and some areas, making it a good option for people and dogs, but not necessarily bike riding.
A few dog-friendly hikes include Westridge-Canyonback Wilderness Park and Runyon Canyon Park. Additionally, Lake Hollywood Park is a big, open area ideal for dogs.
Porter Ranch Parks
Porter Ranch offers a few options for those looking for parks to toss a ball in, take the dog for a walk, or find a playground to release some extra energy. While the community offers playground structures and open green spaces, one park in Porter Ranch is Holleigh Bernson Memorial Park. This open green space is home to a basketball court, picnic tables with some shade, and a lot of green space for running and playing. Holleigh Bernson is a good place for residents to enjoy the outdoors for a few hours.
Wilbur Tampa Park is another city park that offers a playground and a 3.6-mile trail. Some community events take place here throughout the year. The Porter Ranch Palisades Trail stretches across the park, creating a beautiful area for natural wildlife watching.
Located in the city of Northridge, Viking Park offers an open green space ideal for a game of frisbee or toss. There's also a large children's play area and picnic tables for visitors to sit and relax after a long day. Additionally, Porter Ridge Park is a bit smaller than others but offers great features, including a basketball court and children's play area. There also are barbecue pits and picnic tables for those who want to spend time with a group.
Golf Courses in Porter Ranch
Porter Ranch has several golf courses near it, making for an unforgettable day on the green. The championship Simi Hills Golf Course is a Ted Robinson-designed course with a Par 71 and is considered one of the area's best. It has hazards on eight holes, rolling fairways, and 50 bunkers throughout. Practice facilities, a practice putting green, and a lighted driving range complement the course's 18 holes. It offers juniors, men's, women's, and senior's clubs, instructional programs, and various activities.
Porter Valley Country Club is another option. It is a private country club that offers 18 holes of championship golf to enjoy for those looking for rolling fairways and beautiful backdrops. The club offers much more than just golf play. It also has a restaurant, courts for pickleball and tennis, a full fitness facility, an outdoor patio for lounging, bocce ball, swimming pools, and much more. It's often the location for social vents for members, too.
Other Porter Ranch Outdoor Activities
Those seeking additional outdoor fun in the Porter Ranch area have options. Many of Porter Ranch's best dining options offer outdoor patio areas. For example, New York Chicken and Gyro is an excellent choice for Mediterranean food, and its outdoor patio is almost always available for a refreshing experience. There may not be a better choice for good pizza and craft brews than The Pizza Press, where guests will discover outstanding food and a welcoming atmosphere. For the freshest fish, visit the outdoor dining at Lure Fish House, also noted for its fantastic wine and cocktail bars.
It's also essential to check out the many festivals and events happening in Porter Ranch itself. Activities and farmers' markets also occur throughout the year, including 5Ks, art shows, and holiday celebrations.
Porter Ranch Is the Place For Outdoor Lovers
Porter Ranch is one of the most desirable places to buy a home for many people because of the community's exceptional amenities. It is the type of community that's welcoming, active, and always has something going on, and being a part of it all can be fun. It's not uncommon to find events planned within Porter Ranch, but it's also a short drive to most of Los Angeles's many amenities. Explore the outdoors to discover what Porter Ranch offers.