5 Best Outdoor Activities Near NoHo Arts District Los Angeles: Hiking, Golfing, Horseback Riding & More
Posted by Courtney Korb on Thursday, October 19, 2023 at 12:09:02 PM
By Courtney Korb / October 19, 2023
Comment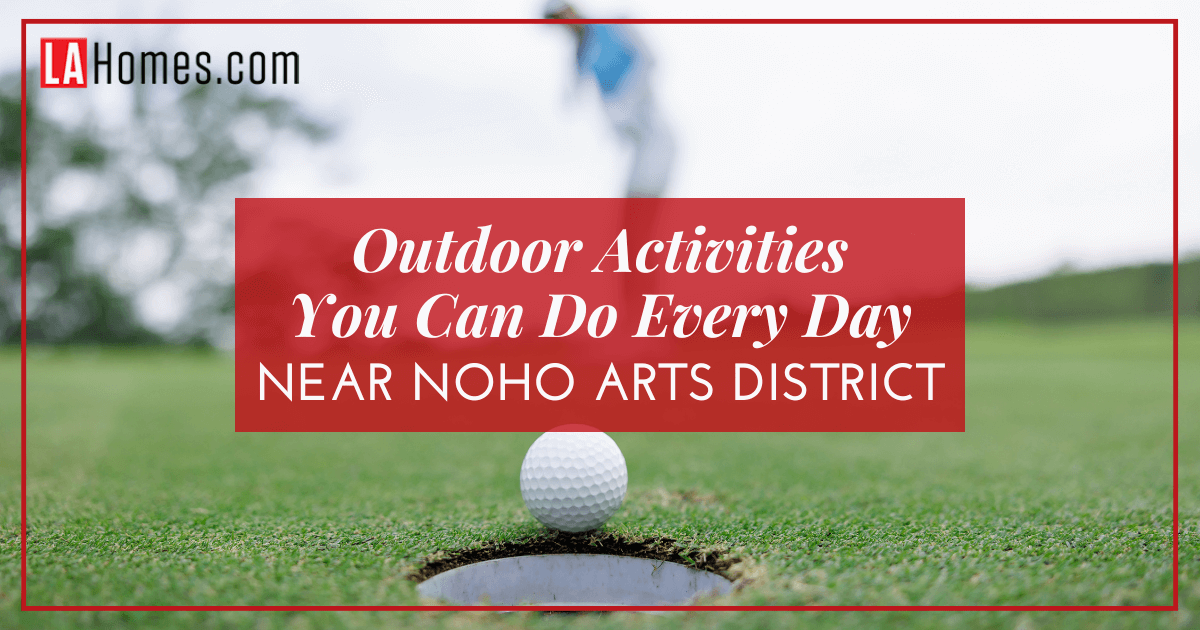 In the vibrant heart of LA's North Hollywood neighborhood lies the NoHo Arts District, a hub for creatives, artists, and outdoor enthusiasts alike. Beyond the theaters, galleries, and art displays, this urban enclave beckons with a myriad of daily outdoor activities. From morning runs along colorful streetscapes to evening strolls amidst historic architecture, NoHo is more than just a cultural hotspot; it's an outdoor adventurer's urban dream.
Explore Nearby Parks
If you're looking for a great park near the NoHo Arts District, you're in luck! There are plenty of options to choose from.
North Hollywood Park
Located at the center of the NoHo Arts District Trail, North Hollywood Park is a picturesque spot featuring lush green grass and tall trees. It's a popular destination for hikers, runners, and walkers, and the easy loop trail can be enjoyed year-round.
The park has a lot to offer, including the Hollywood Skate Plaza and the North Hollywood Recreation Center; plus, it's part of the dog-friendly NoHo Arts District! The recreation center has a range of amenities, including sports fields and courts, an indoor gym, a playground, and an outdoor pool. Sports enthusiasts can take advantage of the well-lit indoor and outdoor basketball courts, a lit baseball diamond, illuminated tennis courts, and outdoor fitness equipment. At the skate park, skaters and BMX riders can enjoy ramps, rails, and stairs. When viewed from above, the layout of the skate park forms the word "wild," adding a unique touch to this recreational area. With so much to do, North Hollywood Park is sure to have something to please everyone.
Griffith Park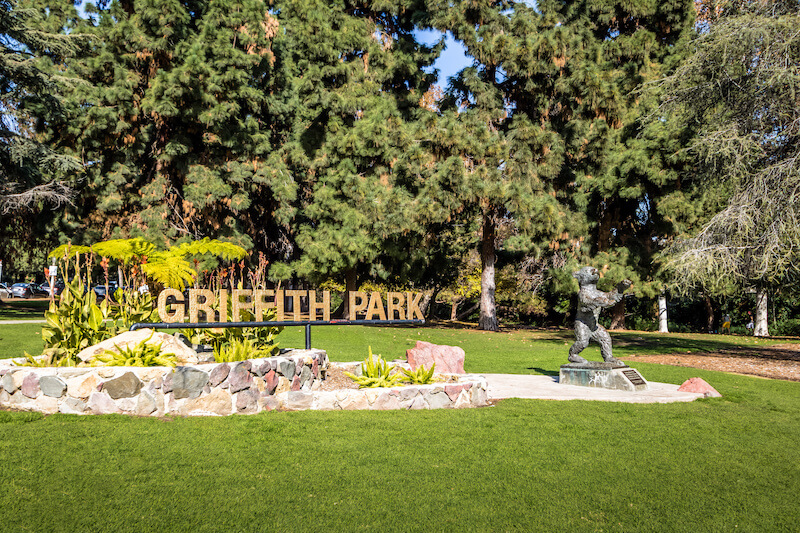 Griffith Park, located along the western border of the city of Glendale, spans 4,300 acres and offers visitors a variety of outdoor activities, such as concerts, stargazing, equestrian experiences, and more. The park is divided by a mountain range and is bordered by the L.A. River, the Hollywood Hills, the Beachwood Canyon area, and the Los Feliz neighborhood. Notable attractions include the Greek Theatre and the Griffith Observatory, which draw crowds of visitors. The park also offers campgrounds for kids, open green spaces, gardens, a zoo, a museum, a vintage carousel, and steam-powered trains.
From April to October, visitors can enjoy concerts at the Greek Theater. For those interested in astronomy, Griffith Observatory provides excellent views of the night sky and the iconic Hollywood sign. Stargazers often gather outside the observatory for celestial events. If you're in the mood for a day at the museum, the Autry Museum of the American West offers insights into Californian and Western culture. The Los Angeles Live Steamers Railroad Museum is also an informative and fun option that offers a unique experience for all ages.
For any animal lovers, the Los Angeles Equestrian Center, spanning 75 acres, is a hub for all things equestrian, and the L.A. Zoo is home to more than 270 different species, over 60 of which are endangered. For example, the zoo plays a significant role in conserving the endangered California condor through its successful breeding program.
Finally, the LA Breakfast Club is a historic and quirky secret society that convenes every Wednesday morning for singalongs, rituals, a breakfast buffet, and guest speakers. As you can see, Griffith Park offers something for everyone, from outdoor adventures to cultural experiences, making it a great destination for locals and visitors alike.
Other Nearby Parks
Valley Village Park is located just on the other side of Hollywood Freeway from North Hollywood Park. Surrounded by trees, Valley Village Park features, picnic tables, restrooms, and walking paths.
South of NoHo Arts District in Studio City, the North Weddington Recreation Center gives visitors plenty of options for sports. The outdoor area features two baseball fields as well as picnic tables and a play area, while indoors has basketball and handball courts.
And for NoHo residents with dogs, the Whitnall Highway Off-Leash Dog Park is the perfect place to visit. The park is separated into areas for large and small dogs and entertains dogs with agility equipment. Owners can take advantage of shaded seating areas as they watch their dogs have fun.
Visit the North Hollywood Farmers Market
The NoHo Farmers Market offers an array of fresh produce, food items, and handmade goods from local California farmers. Located at 5000 Colfax Avenue near the Red Line train station—part of LA's public transportation system—this vibrant outdoor market takes place every Saturday from 9:30 a.m. to 2:30 p.m. Enjoy an assortment of fresh fruits and vegetables, breads, nuts, international cuisine, cheeses, fruit juices, cookies, and a variety of other food items from the food court. If you're looking for clothing, handicrafts, jewelry, or something from the Artist Village, you won't be disappointed.
Live entertainment adds to the festive atmosphere, while families with children can take advantage of the face painting and other activities available. Come experience the vibrant and diverse culture of the North Hollywood Farmers Market and enjoy all it has to offer.
Enjoy Horseback Riding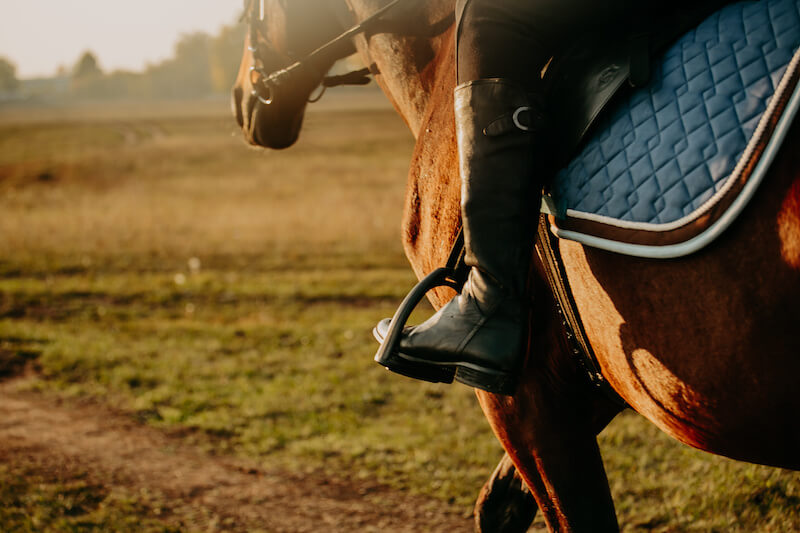 Horseback riding in Griffith Park provides a unique experience with guided tours ranging in length from one to three hours. Griffith Park Horse Rentals and LA Horse Rentals both offer guided rides for individuals of all ages and skill levels. LA Horse Rentals even participates in the annual Rose Bowl Parade.
Sunset Ranch Hollywood provides captivating tours like the Mulholland Trail Tour, lasting an hour, and the Mt. Hollywood Day Tour, spanning two hours and leading to the summit of Mt. Hollywood. For a truly unforgettable experience, the two-hour evening tour on Mt. Hollywood allows you to witness the city illuminated under the night sky. All tours are suitable for riders of all levels, and safety measures are in place to ensure a safe and enjoyable ride.
Equestrian enthusiasts can also head 10 miles north and enjoy much more horseback riding and other outdoor activities in Sunland-Tujunga.
Play a Round of Golf
Golfers in the area can enjoy five courses, including the renowned Wilson and Harding Courses, the Roosevelt Golf Course, the Lakeside Golf Club, and the Weddington Golf & Tennis Club. The Wilson Course is among L.A. City's longest, stretching over 7,000 yards with its 18 holes and a wooded backdrop.
Meanwhile, the Harding Course offers narrow fairways and demanding approaches to the greens for an added challenge. The Roosevelt Golf Course offers captivating views of the City of Los Angeles and a walking-only nine-hole course. The Lakeside Golf Club is a private course in the city of Burbank with a 6,500-yard layout and small greens. Finally, the Weddington Golf & Tennis Club features a nine-hole, par 27 course with a driving range, practice putting green, and chipping practice area.
All the courses offer amenities like a full-service restaurant, golf shop, lounge, and lighted driving range. Whether you're an avid golfer or just looking for some recreational fun, North Hollywood has something to offer everyone.
Adventure Awaits in NoHo
The NoHo Arts District, with its eclectic blend of places to enjoy art, history, and outdoor charm, offers residents and visitors an opportunity to engage with LA's urban outdoors daily. While its reputation might center on artistic endeavors, NoHo's outdoor activities are equally compelling. Whether one is seeking a refreshing jog or a contemplative walk through art-laden lanes, NoHo consistently delivers a dynamic outdoor experience in the very heart of Los Angeles.