Best Neighborhoods in Los Angeles
Posted by Courtney Korb on Thursday, September 9, 2021 at 8:59 AM
By Courtney Korb / September 9, 2021
Comment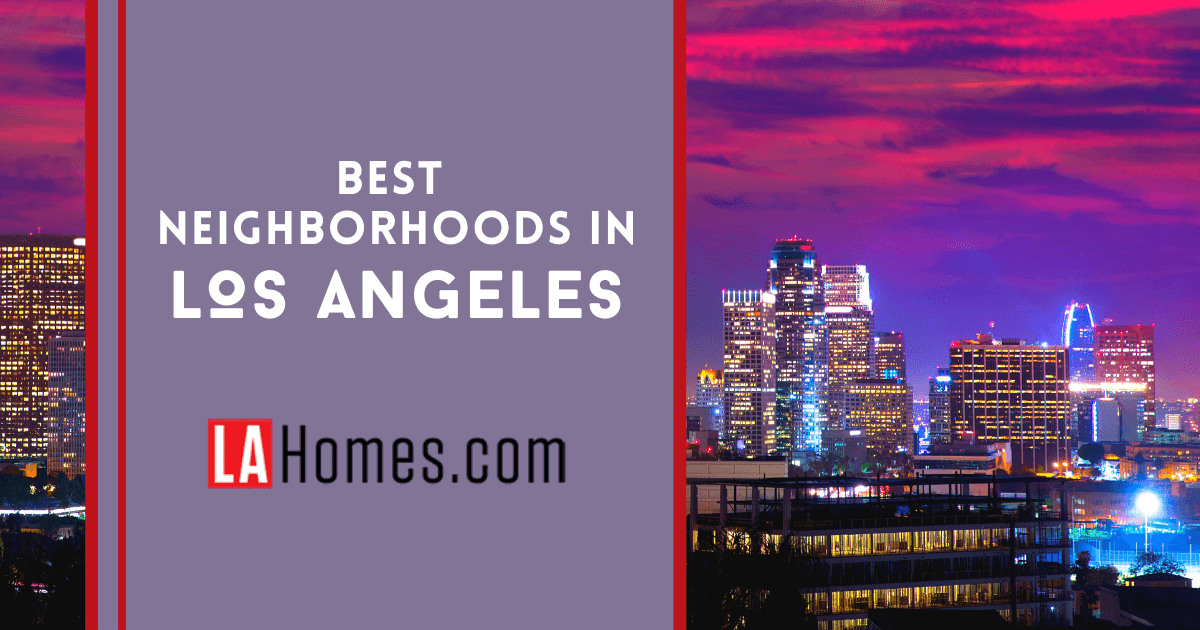 Sprawling against the Pacific Ocean, the city of Los Angeles is the second-most populous area in the country. It has a population of about 4 million people, while the metropolitan area has about 13.1 million people. It is known for being the center of the motion picture and TV industry. The city has a diverse and robust economy driven by international trade, aerospace, technology, fashion, and petroleum. With so many appealing factors, it's no surprise that there is an abundance of fantastic neighborhoods to choose from. Keep reading to learn about the best neighborhoods in Los Angeles.
Locals Love the Los Feliz Neighborhood
Los Feliz Amenities
Quaint coffee shops and restaurants
Central location
The homes in Los Feliz occupy a 2.5-square-mile hillside community south of Griffith Park. It consists of several distinctive districts, and home prices range from affordable to expensive depending on the district. The districts are Los Feliz Hills, Los Feliz Estates, The Oaks, Laughlin Park, Los Feliz Knolls, Franklin Hills, and Los Feliz Village.
The community has beautiful architecture, which varies in style depending upon the neighborhood. Prices vary as well; Los Feliz Village tends to be more affordable. Homes in most other districts run between $1 million and $2 million, although those in Laughlin Park can have prices that exceed $10 million.
Neighborhood hotspots include Yuca's, Bar Covell, and Skylight Books. The Greek Theater, built in 1929, hosts classical and contemporary acts.
Stay in the Heart of the Action in the Downtown Los Angeles Neighborhood
Downtown Los Angeles Amenities
Recreational opportunities including parks and a bowling alley
Highly walkable
Easily accessible by freeway, commuter rail, subway, Amtrak train, and bus
The city's hub
Interesting architectural styles
Houses across a varying price range
Wedged between I-10, I-110, and the Los Angeles River, the Downtown Los Angeles neighborhood is the main financial and business district with a population of 58,000 people. Restaurants, bars, nightspots, shopping, and businesses are all located downtown and within walking distance. Downtown has several districts, including the Historic Core and the Arts, Banking, Broadway, Civic Center, Fashion, Jewelry, Theater, and Toy Districts.
Los Angeles condos are the primary home type downtown, and they vary from less than 1,000 square feet of space to 4,000 square feet. Prices vary from $600,000 to more than $8 million. People who drive in Los Angeles will appreciate having a reserved parking spot in their complex.
Downtown has two movie theaters, the Downtown Independent and Regal Cinemas. Grocery options include Whole Foods, Ralphs, Little Tokyo Market Place, Superior Grocers, and two farmers' markets. Many restaurants, cafés, and bars also are available, and Fashion District shops feature trendy clothing. Entertainment options also include the L.A. Live entertainment complex and the Crypto Arena arena.
The Mid-City Neighborhood Is Close to it All
Mid-City Amenities
Central location for commuting (downtown and Century City are 6 miles away)
A mix of housing types and prices
Several parks
Variety of restaurants and shops within the neighborhood
Mid-City, as its name implies, is located near the center of Los Angeles. Its northern border is Cathay and Mid-Wilshire; the eastern border is Arlington Heights; its southern border is Baldwin Hills, and the western border is Beverlywood and Palms. Singer Ray Charles located his recording studio here. The neighborhood features palm-lined streets and is more affordable than some to its north.
The properties for sale in Mid-City are a mix of single-family homes, duplexes, triplexes, and multi-family buildings. Prices range from about $500,000 to more than $3 million.
Most of the restaurants in the community are located along Pico Boulevard, which forms the northern border. Roscoe House of Chicken and Waffles is one example. Shops are along La Cienega Boulevard and La Brea Avenue. A farmer's market is at Wellington Square.
The Silver Lake Neighborhood is On Top of Trends
Silver Lake Amenities
Good access to Los Angeles public transit
Variety of independent stores and coffee shops
2.2-mile loop for runners around Silver Lake Reservoir
Views of the San Gabriel Mountains from many locations
The Silver Lake community borders Atwater Village on the north, the Elysian Valley and Echo Park on the east, Westlake on the south, and East Hollywood and Los Feliz on the west. Sunset Junction, its urban center, is located at the intersection of Santa Monica and Sunset Boulevards. Until the mid-1950s, the Junction served as the site of the branching of two inter-urban railway lines. Walt Disney also had his first large studio in this neighborhood from 1925 to 1939.
The neighborhood has primarily single-family homes, some of which are architecturally significant. Many have excellent views of surrounding areas. Median home prices run from about $765,000 for a one-bedroom to about $1.3 million for homes with four bedrooms or more.
The neighborhood has been called "LA's coolest area." The Broome Street General Store on Rowena Avenue is a hot shopping spot, which stocks clothing, groceries, home goods, and gifts for various occasions. Jay's Bar has 15 beers on tap, $5 well drinks on Sunday, and $5 old-fashions on Friday.
Live Among the Stars in the Hollywood Neighborhood
Hollywood Amenities
Easy commute to downtown on the Hollywood Freeway
Metro rail station
A large variety of nightlife, food options, and shopping
The famous Hollywood neighborhood is in central Los Angeles and is the location of many motion picture and television studios. Incorporated as a municipality in 1903, it became part of Los Angeles in 1910. Street limits of the neighborhood are Hollywood Boulevard from La Brea Avenue to the east boundary of Wattles Garden Park and Franklin Avenue between Bonita Avenue and Western Avenue on the north; Western Avenue to the east; Melrose Avenue to the South; and La Brea Avenue or the West Hollywood city line to the west.
Ultra-modern Hollywood condos are along Hollywood Boulevard, and single-family homes are closer to Santa Monica Boulevard. The area also includes several luxury homes in Hollywood. Prices range from about $400,000 to more than $4.7 million.
The area has extensive nightlife opportunities along Hollywood Boulevard or Sunset Strip. Adults Only, a movie-centric bar, Hyde Sunset, and Hollywood Nightlife are two examples. The Hollywood Bowl provides a summer concert series. Residents can shop in 800 Sunset Strip, a small shopping center that includes Trader Joe's, or Hollywood & Highland. The neighborhood also has an annual Christmas parade.
Atwater Village: A Top Los Angeles Neighborhood
Atwater Village Amenities
Near metro train and bus stations
Accessible to the 5, 110, and 134 freeways
Along the banks of "Glendale Narrows," which has hiking and equestrian trails, fishing, kayaking, and canoeing
The Atwater Village neighborhood is a two-square-mile neighborhood between Glendale, Los Feliz, and Eagle Rock. Founded in 1902, it was originally named Atwater, and it was first called Atwater Village in 1986. Curbed LA has named Atwater Village the "Neighborhood of the Year," and Details Magazine has called it one of the "Six Hottest Emerging Neighborhoods" in the world.
In the 1920s to 1940s, Spanish Mission-Revival style bungalows were built in the neighborhood, and many remain today. Other architectural styles are Tudor cottages and high-rise condos. Prices range from about $675,000 to $1.5 million.
The neighborhood has several boutiques and thrift stores along Los Feliz Boulevard and Glendale boulevards. It also has a vibrant nightlife — The Roost is a popular dive bar with a jukebox, and the Griffin is a gastropub with a fireplace. The neighborhood also has several cafés and hip restaurants with diverse cuisines. The farmer's market is popular on Sundays.
The Fairfax Neighborhood Boasts Shops & Museums
Fairfax Amenities
Parks including Pan Pacific Park
Excellent museums, eateries, shopping, and cinemas all within the neighborhood
Melrose Trading Post Flea Market
Variety of housing types
The Fairfax community is in the mid-Wilshire area of Los Angeles. Wilshire Boulevard and Melrose Boulevard are the south and north boundaries. The neighborhood began when a dairy farmer, A.F. Gilmore, was sinking a well to water the herd of cows he grazed near the present corner of Wilshire Boulevard and Fairfax Avenue. He accidentally stumbled upon what became the productive Salt Lake Oil Field, which made him wealthy. He began to subdivide the nonproductive portions of his land to build homes.
Now the neighborhood features a combination of single-family homes, townhomes, and mid-size condo complexes. Housing prices are from $500,000 to more than $4.4 million.
The Los Angeles Museum of the Holocaust and the city's only silent movie theater are located in the neighborhood. Eateries reflecting various cultures are within the neighborhood; a stretch of road known as Little Ethiopia contains some of the best Ethiopian restaurants in the city. A popular dinner and brunch spot is Republique, a French café and bakery. The La Brea Tar Pits is a popular weekend activity. Shopping, dining, and cinemas also are available at The Grove.
The Chinatown Neighborhood Is Affordable and Central
Chinatown Amenities
LA State Historic Park within walking distance
Central location
Affordable housing
Close to Union Train Station
Chinatown is just north of downtown. Its boundaries are the 101 freeway to the south, the 110 freeway to the west, the L.A. State Historic Park to the north, and the Lincoln Heights neighborhood and Los Angeles River to the east.
The neighborhood is affordable, and condos are the dominant housing type. A few townhomes or single-family homes are available. Housing prices range from about $500,000 to about $1.2 million.
The area features several Chinese restaurants and grocery stores, including the Far East Center, Yue Wa Market, and Lian Li Hong. Restaurants offer other types of cuisine too. For example, Little Jewel of New Orleans offers Creole favorites. The neighborhood also has a farmer's market and several annual festivals.
Discover the Best Neighborhoods in Los Angeles
Los Angeles is well-known for its connection to the film industry and celebrities who live and work there. The city, however, has a diversity of industries and businesses. It also has amenities such as international dining opportunities, museums, parks, and world-class shopping that all residents can enjoy.
The city consists of several unique neighborhoods. Some have a vibrant urban buzz and nightlife and restaurants within walking distance. Others provide a quieter experience away from the bustle. Some are walker-friendly, and residents can accomplish most of their errands on foot or through public transportation. Some offer the opportunity to live in historic buildings, while others are contemporary with modern amenities. Residents with varying professions, lifestyle preferences, and budgets can find a home in these Los Angeles neighborhoods.
Read Our Best Neighborhood Guides For Each City Below