8 Best Neighborhoods in Burbank: Where to Live
Posted by Courtney Korb on Wednesday, October 20, 2021 at 8:15 AM
By Courtney Korb / October 20, 2021
Comment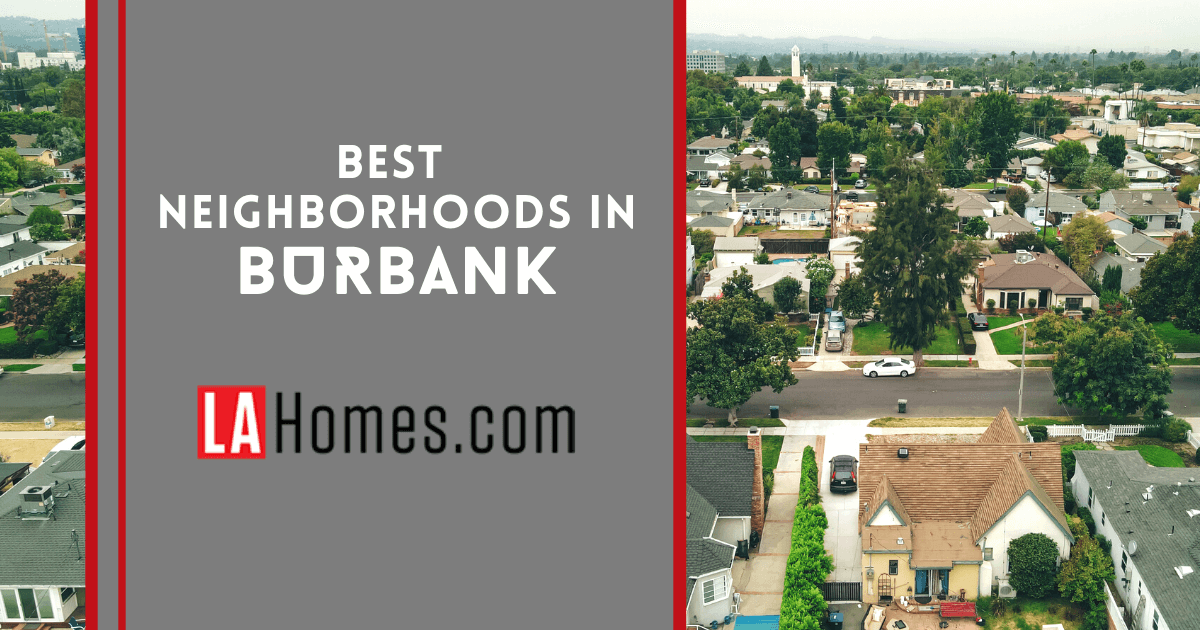 Burbank is one of the best-known and most unique parts of the greater Los Angeles, CA region. The city is home to an essential group of entertainment and media companies, including Warner Brothers and Walt Disney Studios, which coexist beside the many desirable homes for sale in Burbank. These neighborhoods all offer something different to anyone thinking about moving to Burbank. Keep reading to learn all about the best neighborhoods in Burbank.
Magnolia Park: Walk to Shops
Magnolia Park Amenities
Tree-lined residential streets
Popular commercial corridor with retail and dining
Greenspace, including Verdugo Park
Easy for walkers and bikers
Magnolia Park offers a unique combination of tree-lined streets and a thriving small business district in the heart of Burbank. The community is located along West Magnolia Boulevard, roughly bounded by North Hollywood Way, North Buena Vista Street, the Chandler Bikeway, and West Verdugo Avenue. It's a notably easy neighborhood to get around without a car, with pedestrian-friendly streets and the nearly 3-mile protected Chandler Bikeway. Those with a vehicle will find ample free parking on Magnolia Boulevard. Magnolia Park is also defined by its thriving commercial corridor along Magnolia Boulevard, home to many small businesses and restaurants. The strip is particularly notable for its vintage clothing and antique stores, which can offer chances to pick up a piece of movie industry history.
Homes in the community start at around $600,000 and can reach over $1 million. Most are ranch-style houses built in the post World War II years and generally include two to three bedrooms and a similar amount of bathrooms. A significant number also include pools. Renters will find options as well, mostly limited to rented single-family homes or small multi-unit buildings.
Downtown Burbank: Heart of the City
Downtown Burbank Amenities
Mix of single-family homes, condos, and apartments
Hundreds of retail options, including Burbank Town Center
Diverse restaurants and entertainment venues
Easy walkability and access to public transit
Serving as the dense commercial core of the city, Downtown Burbank generally refers to the area just northeast of Interstate 5 up to Glenoaks Boulevard, toward the southern edge of Burbank's border. The neighborhood is highly walkable, allowing easy access to many shopping spots and restaurants serving cuisine from around the world. Entertainment options include two movie theaters or a live show at the Colony Theatre Company. Those commuting to downtown Los Angeles or other areas to the south can use the Downtown Burbank Metrolink station, including free parking.
Housing in Downtown Burbank is made up of a mix of single-family homes and Burbank condos for sale. Those looking to buy real estate here will likely need to spend around a million dollars or more, regardless of whether they're looking for a condo or house. However, renters will have plenty of choices if their budgets allow. Studios start in the $1,500 per month range, with median rents for units of all sizes in the community around $3,000 per month.
Hillside District: Quiet & Scenic
Hillside District Amenities
Almost entirely residential community
Easy access to green space and outdoor recreation
Views of San Fernando Valley and L.A.
For beautiful scenery, unique homes, many are drawn to the Hillside District, located just northeast of downtown in the hills that surround Burbank. This residential neighborhood includes a diverse mix of smaller subdivisions, including homes for sale in Burbank gated communities. Most of the area's original homes were built in the 1940s and 1950s, many of which have been replaced, expanded, or updated recently.
Homes in the Hillside District generally cost between $1 million and upwards of $2 million. A more limited number of condo buildings also exist along the periphery of the community, with two- to three-bedroom units selling in the $600,000-$700,000 range. Renters will generally find single-family houses as the primary option, with monthly rents starting around $5,000. More modestly priced apartments can also be found around the district's southern edge.
Residents of the Hillside District can enjoy themselves at various attractions, including DeBell Municipal Golf Course and the Stough Canyon Nature Center, a popular spot for hiking and other outdoor activities. The community is also home to the Starlight Bowl, which hosts concerts and other community celebrations.
McNeil: Stay Close to the Studios
McNeil Amenities
Proximity to major studios and entertainment employers
Green space at Johnny Carson Park
Homes with yards and pools
Close to Magnolia Park restaurants and retail
This residential neighborhood is located in western Burbank, close to Magnolia Park and the Media District. It's a popular neighborhood among those who work in the entertainment industry due to its proximity to major studios like Warner Brothers and Disney. McNeil is also adjacent to Johnny Carson Park, which offers green space, outdoor fitness equipment, picnic areas, and even a stage. It's also close to the Ventura Freeway and just a few minutes by car from downtown Burbank, making it easy to get around the area.
The McNeil neighborhood is almost entirely of single-family, detached homes, many of which have spacious and well-kept yards and pools. Those looking to buy real estate here should expect to spend at least $800,000, with many homes priced at more than $1 million. Most are moderately sized, with 2–4 bedrooms, 2–3 bathrooms, and between 1,400 and 1,900 square feet. Renters will find their options mainly limited to houses, with a few scattered multi-unit buildings. Average monthly rents in the community are around $3,400.
Chandler Park: Nestled Against the Bikeway
Chandler Park Amenities
Unique, half lot homes
Easy access to walking and biking on Chandler Bikeway
Close to downtown shopping, dining, and nightlife
Community recreation and education centers
Chandler Park is a unique neighborhood centered around Chandler Boulevard and the popular Chandler Bikeway. The paved bikeway runs from Mariposa Street to Clybourn Avenue and is popular with cyclists and walkers. Houses along the boulevard/bikeway are different from many other Burbank homes, built on so-called "half lots." These are just 25 feet wide and as shallow as 100 feet deep, resulting in detached, single-family homes as small as 900 square feet, with one bedroom and one bathroom. Even so, many have yards, and some even have pools. Homes further removed from the immediate Chandler Boulevard area can be larger, as big as five bedrooms and 3,000 square feet or more. Prices start around $800,000 and often exceed $2 million.
Chandler Park residents have access to community resources like the Olive Recreation Center, sports fields, a gym, and classes for kids and adults. Older community members can also enjoy the Joslyn Adult Center, which holds educational, fitness, and cultural events for those aged 55+. Chandler Park is adjacent to Burbank's vibrant downtown and bustling dining, shopping, and entertainment scene.
Media District: Where Movie Magic Happens
Media District Amenities
A carefully managed mix of residential and commercial
Home to many media companies and movie/TV studios
Freeway access for easy commuting
Burbank is well known for its role in the entertainment industry, and the Media District neighborhood draws its name from the studios and other media businesses located nearby. The area is carefully managed through a zoning plan designed to protect residential areas from traffic and encroachment. The result is a thriving commercial district that coexists with comfortable single-family homes, townhomes, and condos. The Media District is home to Warner Brothers Studios and is close to Disney and Universal Studios. Those commuting to other parts of the region will enjoy easy access to the 134 and 101 freeways, making driving in Burbank more convenient. In addition, residents can take advantage of the community's Johnny Carson Park, along with Lakeside Golf Club.
Media District homes start at around $600,000 and reach $800,000 or more. The majority were built in the post-war period of the 1940s. Most have two to three bedrooms and a similar number of bathrooms and range from less than a thousand square feet to over 2,000. Rental homes and condos generally cost between $1,500 and $3,000 monthly, depending on size and amenities.
Halston & Highridge Estates: Burbank Luxury
Halston & Highridge Estates Amenities
Gated community with neighborhood security
Luxury home features
Spectacular views of San Fernando Valley and downtown L.A.
A community park and tennis courts
Those looking to buy luxury homes in Burbank will enjoy Halston and Highridge Estates neighborhoods. These high-end homes are relatively new, primarily built in the 2000s. Halston & Highridge Estates boasts some of the larger houses available in Burbank, starting around 3,000 square feet and ranging up to 7,000 square feet. Builders included luxury touches like gourmet kitchens, media rooms, pools/spas, and custom outdoor entertainment areas. Most homes have incredible views of the sprawling San Fernando Valley below. However, this serene, hilly setting is still just a short car trip from downtown Burbank and the rest of the Los Angeles area.
Residents must join the homeowner's association and will be responsible for an HOA fee but enjoy plenty of amenities for their money. These include neighborhood security, a community park, tennis courts, a picnic area, and more. The community comprises just more than 100 homes, each of which costs between $1.5 million and $5 million.
Burbank North Estates: Stunning Valley Views
Burbank North Estates Amenities
Luxury Mediterranean-style homes
Gorgeous community landscaping and parks
San Fernando Valley views
Close to downtown/freeways
Burbank North Estates is another of the city's luxury neighborhoods located in the Verdugo Mountains. Though only a few minutes from downtown Burbank and the busy Interstate 5 freeway, the community is known for its rolling hills lush landscaping. It also offers similarly beautiful views of the San Fernando Valley as other neighborhoods in the Burbank hills. In addition, residents enjoy extensive local green space, including Verdugo Mountain Park, Villa Cabrini Park, and Brace Canyon Park.
Burbank North Estates homes generally sell for around a million dollars or more, some as high as the $2 million–$3 million range. Homes vary in size from just under 2,000 square feet to nearly 6,000, resulting in three to six bedrooms and between two and seven bathrooms. They're primarily built in the Mediterranean style, with extensive luxury finishes inside and pools and outdoor entertaining areas. Some date back as far as the 1950s, though others are as recent as the mid-2000s. Rentals aren't common, as the neighborhood is entirely high-end single-family homes. However, houses can sometimes be leased in the $6,000–$8,000 range.
Which Burbank Neighborhood Is Right For You?
While Burbank may be best known for its movie and T.V. heritage, the city is a lot more than a studio backlot. With homes as varied as 900 square foot "half lots" and hillside luxury mansions, Burbank offers neighborhoods for all tastes, many with excellent outdoor space and ideal proximity to the many fun things to do in Burbank. Burbank likely has a great match no matter what potential residents are looking for in a new community.
Read Our Best Neighborhood Guides For Each City Below