Modern Decor Ideas: Interior Design Tips For Modern Style Homes
Posted by Courtney Korb on Thursday, January 20, 2022 at 7:37 AM
By Courtney Korb / January 20, 2022
Comment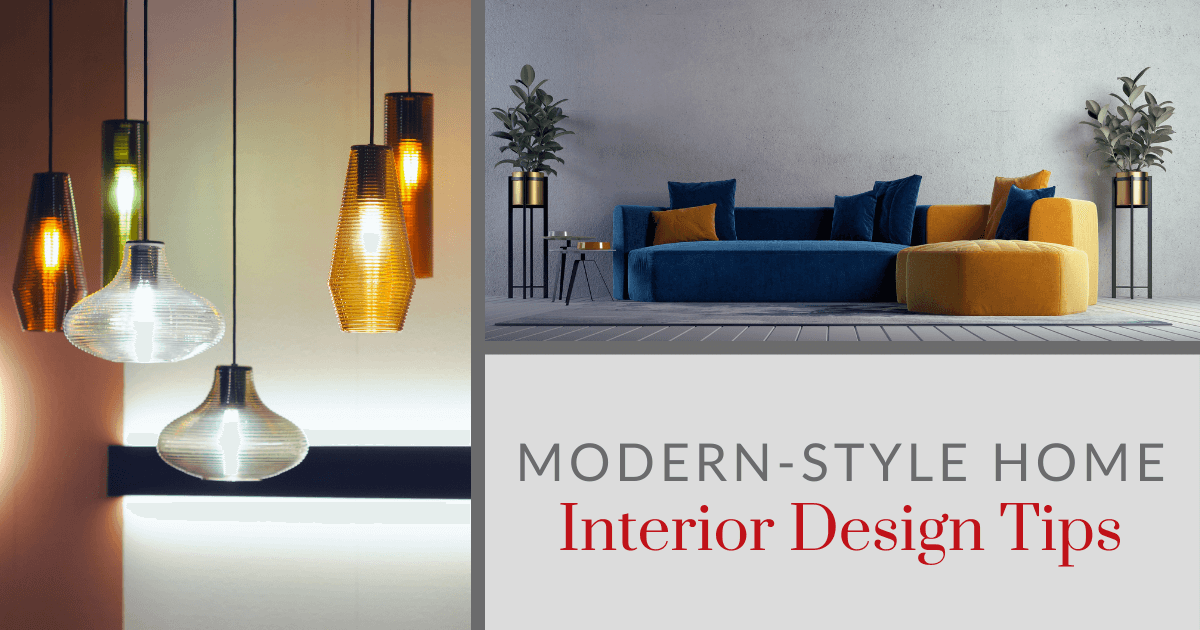 Interior design is a way for individual homeowners to truly make their living space distinctive and unique. Modern-style decor is rooted in 19th- and 20th-century design ideas that emphasize subtle function, natural light, and industrial materials like stone, glass, and steel. Clean lines, geometric forms, and open spaces are other stylistic concerns when designing a Modern-style home interior. For those considering a home remodel or new home construction in a neighborhood with Modern-style homes, keep reading to learn more about how to decorate a Modern home.
Less is More When it Comes to Modern Style
"Less is more" is not a cliché when it comes to Modernist style. The minimalism encapsulated by the Modern style borrows heavily from Japanese and Scandinavian designs. Rooms designed with the modern minimalist aesthetic work towards the idea that everything in the room—from furniture to works of art—carries out a specific, unique function within the space. Pieces must connect to each other in ways that become readily apparent upon closer inspection. American architect Frank Lloyd Wright was considered a pioneer of the Modern and minimalist movement, designing homes that combined function with simplicity.
A minimalist space within a home usually adheres to certain principles: natural or monochrome colors, designated storage pieces, total lack of clutter, and clean lines. Anything unnecessary to the space, such as artworks that don't fit the style, overly ornamental additions, and unneeded decorations, should be excluded. One of the keys to minimalism is that it can make smaller spaces look larger, thanks to the reduced clutter and increased functionality of everything in the room. The "less is more" aesthetic of minimalist design should create a calming effect on anyone who enters the room.
Choose Geometric Designs
Modernism is not to be confused with Contemporary style, which features softer lines and elaborate sculptural touches. Geometric shapes and designs with clean lines are what sets Modernism apart. Geometric furniture pieces and decorative designs or painting styles can be used in any room in the home to great effect. Geometric lighting fixtures, modular shelving, and art prints can all accent a room in ways that speak to this creative style.
A modern living room should have low-sitting furniture matching the geometric design elements of the walls and shelving for a unified look and feel. Keep in mind that the Modern style also often features primary colors (reds, blues, and yellows) for accents and large windows for plenty of natural light.
Modern Art is the Perfect Accent
Abstract art and cubism are Modern forms that work exceptionally well to accentuate this style, especially in modern living rooms, bedrooms, and home offices. Keep in mind that going with frameless paintings is a way to enhance the minimalist style described above. Stay away from gallery-style walls with multiple pictures, which can look cluttered. Instead, opt for a large piece that covers a broad section of the wall or a small art series in which each piece is somehow related.
Modern artwork enhances a room with bold colors and unexpected shapes or designs. That also includes sculptures, in addition to paintings. A large Modern piece can become the focal point of the room, so long as it matches well with the clean lines, while boldly standing out from the simplicity of the room's overall style.
Choose Low & Long Furniture
Modern architecture focuses on clean, horizontal lines, so low and long furniture pieces can further accentuate the look. But it can't be just any piece of long and low furniture. Think of a couch: the accents on the couch should utilize natural materials such as wood or metal or industrial materials like glass or concrete. Leather or upholstered fabric is fine but are common choices. The finishes and accents are what set Modern furniture pieces apart. Other characteristics of Mid-Century Modern furniture include bold colors and patterns to make pieces pop against the clean, minimalist background.
The long and low lines of furniture pieces allow the room to flow naturally, without obstruction. A tall, high-backed easy chair, for example, could block the view and the natural light that tends to easily flow into a Modern home, thanks to the expansive windows. Taller furniture can be disruptive to the look the homeowner is trying to achieve.
A modern living room will have clean lines and sharp angles, making a piece with soft edges look out of place. Modern living rooms often feature a minimalistic design, so it is important to select pieces that complement this style. When shopping for modern living room furniture, look for pieces that are made from high-quality materials and feature a simple, sleek design.
Enjoy the Industrial Aesthetic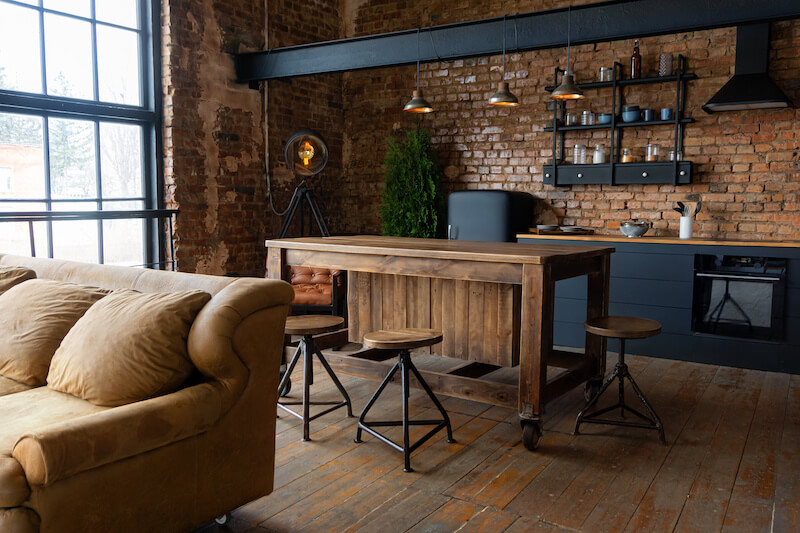 Another design feature that the Modern style heavily utilizes is the industrial aesthetic. A common characteristic of Modern-style architecture is for structural elements like wood beams or concrete to be visible. Brick walls, sleek metals, and no-frills, expansive windows are other hallmarks of industrial design. The kitchen is one of the most straightforward rooms to remodel with an industrial look because so many fixtures and appliances are made with stainless steel finishes. High ceilings with dramatic lighting fixtures, typically made with a "retro" industrial look from rustic metals, are another easy way to enhance a room with an industrial look.
To pull this look off, most of the home's materials in a room should be crafted from natural materials. Metals, brick, unpainted wood, and leather furniture fixtures are examples. Steel, chrome, glass, and other reflective surfaces also enhance the industrial aesthetic.
Modern Style Enhances and Personalizes the Dream Home
While it's linked to a specific historical era, the Modern style is not going away anytime soon. Homeowners who appreciate the simplicity and simple lines of the Modern style can upgrade or remodel their home while adhering to these principles. Someone's home interior should provide comfort and reflect the lifestyle that they want to achieve, so the Modern style is likely to remain popular for many years to come.