Best Los Angeles Suburbs
Posted by Courtney Korb on Friday, September 3, 2021 at 8:50 AM
By Courtney Korb / September 3, 2021
Comment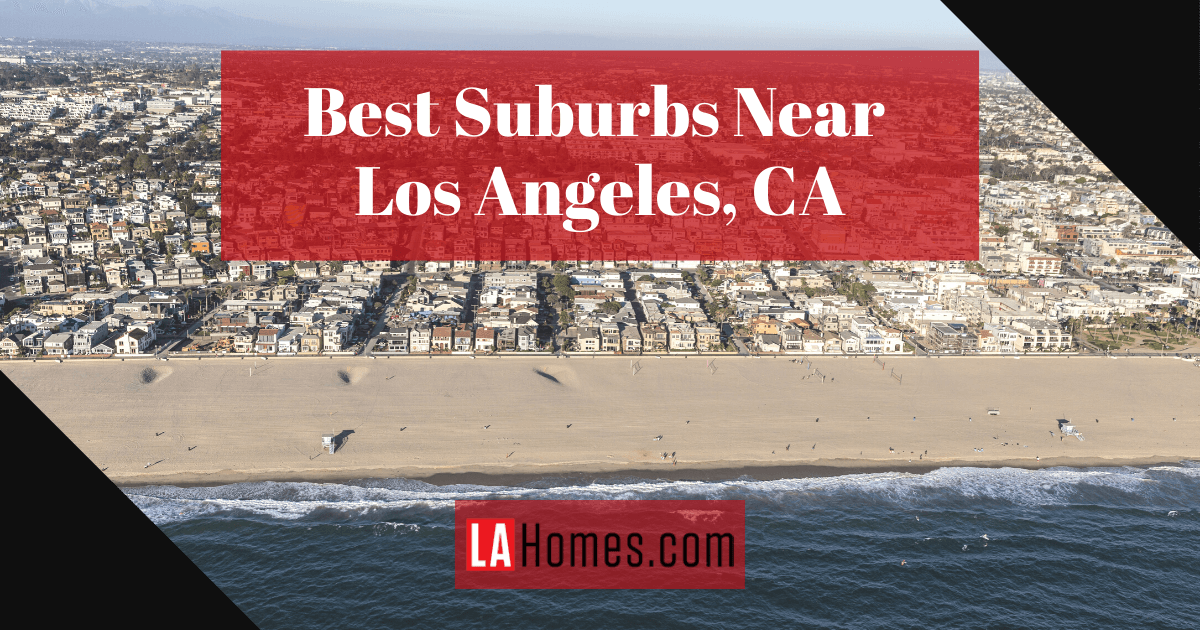 Home to notable attractions like Disneyland and one of the most magnificent coastline stretches in the country, the Los Angeles community is a vibrant metropolis with something for everyone. This West Coast city has an estimated population of four million people and continues to attract more annually.
With her large population comes an unrivaled cultural diversity and eclectic neighborhoods ranging from oceanfront suburbs marked with high-end condos such as Santa Monica, upscale, celeb-packed areas like the Bel-Air community to small, laid-back towns evocative of the Midwest, like the San Pedro community.
Looking to move to the City of Angels? Read on to discover some of the best Los Angeles suburbs.
Redondo Beach
The Redondo Beach community is a welcoming seaside city in the South Bay region of Greater LA. It's one of the three coastal cities on Santa Monica Bay and is just 6.8 miles from the Los Angeles Airport and 18 miles from Downtown Los Angeles.
The Redondo Beach area was originally inhabited by Native American tribes, but became Spanish land when a grant was made to Juan Dominguez in the 1780s. Initially an oil and lumber trade city, this coastal town grew into one of the most beautiful Los Angeles suburbs after the Redondo Hotel was established in 1890.
Today, Redondo Beach is divided into two main areas: South Redondo, a relaxed, coastal location with close-knit gated community neighborhoods, and North Redondo, a bustling business hub featuring engineering and even aerospace firms.
Redondo Beach is a charter city run by an elected mayor and a council known to promote, implement, and even partner with local businesses to improve the suburb's economic climate. Thanks to its wealth of outdoor recreation activities, central location, and growth opportunities, it's a great place to live. Here are some of the top spots to stop by:
The Redondo Beach pier is a major landmark, famously known for its horseshoe shape. It features oceanfront shops, boutiques, restaurants, and dining spots for all tastes, bars, and plenty of entertainment options, hence the nickname Pleasure Pier. Torrance Beach is just south of the pier. It's a less-crowded, magnificent, 1.5-mile beach stretch where one can swim, surf, beach-comb, go for a picnic, or sunbathe.
Perched between the scenic Pacific Coast Highway and the Pacific Ocean, Riviera Village has more than 300 restaurants, hair salons, boutiques, spas, skincare studios, galleries, and professional office spaces. It offers spectacular views of the green Palos Verdes Peninsula cliffs, and here one can get all types of services, ranging from finance and real estate to medical and legal.
Located near Veterans Park, the Redondo Beach Farmers Market opens every Thursday and offers an array of products, including fresh and dried fruits and veggies, cut flowers, bakery goods, and more.
Established by landscaper photographers Jill Sanders and Joshua Serafin, Gallery JS is an art and photographic studio on Hollywood Riviera. It features terrific art and photographic exhibitions of Redondo Beach and has been open to the public since 2015.
Glendale
Home to the company that created iconic movies like Shrek and Madagascar, the Glendale suburb is a poplar area just 10 miles from Downtown LA. It's also close to Burbank Airport, Atwater Village, Eagle Rock, and important routes like the 134 freeway to allow seamless access to the city.
This sleepy city was initially inhabited by Native Americans but was later incorporated into the Rancho San Rafael Grant. Like most west coast suburbs on this list, Glendale has notable neighborhoods such as Verdugo Woodlands, an old-school community characterized by Spanish-style colonial homes, and Whiting Woods, a posh area with luxurious residences.
Also known as Jewel City, Glendale has excellent job opportunities, top-notch dining spots, and fantastic shopping destinations. Visiting soon? Be sure to stop by these places:
The Americana at Brand is a world-class mall at the heart of Glendale. This industrial-style retail center sits on 2 acres of land. It features a slew of trendy restaurants, brands like Nike, Apple, and Calvin Klein, a movie theatre, and recreational spots. The mall also hosts events all year round.
Established in 1889, the Forest Lawn Memorial Park is a renowned landmark with a museum showcasing art and artifacts, home to two of the largest religious paintings in the Western hemisphere. It's a picturesque location complete with rolling hills and beautiful landscapes and has a cemetery, which happens to be the final resting place for famous figures like Walt Disney and Nat King Cole.
Irvine
Named one of the happiest cities in the U.S., the Irvine community is a planned city that was developed in the 1960s by the Irvine Company. It has an estimated population of 273,000+ people and excellent weather year-round. As home to countless Fortune 500 companies, including tech giants like Google and Amazon, the city offers plenty of growth opportunities.
Irvine is also popularly referred to as College Town thanks to its wealth of academic institutions, such as the University of California, Irvine, the Irvine Unified School District, and the Irvine Valley College.
Although it offers plenty of urban amenities, Irvine doesn't lack natural attractions. It boasts over 16,000 acres of permanently preserved land featuring diverse flora and fauna, free-flowing watersheds, dramatic geological structures like the Sinks at Limestone Canyon, wildlife corridors, and an unusually high population of rare and endangered plant and animal species. Check out some of these hotspots:
Owned and operated by the Irvine Company, the Irvine Spectrum Center is a retail center with 38 million square feet of commercial space. It's a significant business hub with over a hundred stores, restaurants, shopping, and entertainment venues.
Irvine residents like to gather at the Hive & Honey Rooftop Bar and sample delicious tapas and craft cocktails while enjoying 360-degree panoramic views of the city. It's a popular rooftop bar with a rich menu, excellent service, and regular live events.
Culver City
Famous for being home to popular film studios like MGM and Sony, Culver City is one of the hottest suburbs in Los Angeles. It's strategically located 3 miles from Century City, six from Santa Monica, 10 from Downtown LA, and 20 from the city of Burbank. Like most LA suburbs, Culver City became part of the Ranchos of California through a land grant.
Today, Culver City has a vibrant downtown, dotted with popular shopping centers, art galleries, restaurants, and upscale eateries, among many others. Despite being near an expansive city like Los Angeles, Culver City has a strong sense of community and features many public facilities, such as the Kenneth Hahn State Recreation Area.
Culver City is characterized by a medley of architectural styles ranging from modern and contemporary to rustic and industrial-style homes. The heart of screenland is home to companies like Beats Audio and the NFL Network and popular startups such as MeUndies and Steelhouse.
To connect with nature, hike the Ballona Wetlands Trail, a scenic 1.5-mile trail filled with unique flora and fauna, or head to Baldwin Hills Scenic Overlook for stunning views of Downtown Los Angeles. Here are some popular places to visit in Culver City:
Established by Culver City's founder, Harry Culver, The Culver Hotel is a six-story inn with 46 rooms. Besides being one of the oldest buildings in Downtown Culver City, this inn is also popular for having housed famous figures like Charlie Chaplin, Greta Garbo, and the entire Wizard of Oz cast.
Characterized by unique cactus gardens and artistic murals, such as the 80-foot rainbow-colored mural by Jen Stark, The Platform is a boutique retail center on the Westside of Los Angeles. The center houses Loqui, a popular Mexican street food joint, and top brands like Poketo and Tom Dixon.
Hermosa Beach
The Hermosa Beach community is a small and sunny beach city stretching 1.4 miles. Residents and travelers can enjoy an array of beachfront activities such as surfing, swimming, and even beach volleyball.
Hermosa has plenty of community parks and paved pedestrian trails, making it a magnet for outdoor activity enthusiasts. The city was originally part of the Rancho San Pedro grant but became incorporated in 1907. Because it's a small beach town, Hermosa's neighborhoods are pretty desirable. Popular options include Sand Section, a beachfront area characterized by single-family luxury homes, and Valley Section, a hillside neighborhood with beautiful townhomes, single-family homes, and condos.
Although generally laid-back, Hermosa Beach also boasts a high-energy nightlife, characterized by spots like The Lighthouse Cafe and the Pier Plaza at Pier Avenue. Newcomers can learn about the town's rich history at the Hermosa Beach Historical Society and Museum, which showcases 3,500 different artifacts. Here are some more popular spots in Hermosa Beach:
Like the other two beach towns nearby, Hermosa Beach also has a pier. The nearly-thousand-foot pier offers splendid sunsets and magnificent views of the Palos Verdes Peninsula. One can fish (you'll need a license, though), rollerblade, or chill and enjoy the views.
Starting from the Pacific Coast Highway to the ocean, Pier Avenue is lined with eateries, restaurants, coffee shops, clothing shops, and much more.
Palos Verdes Estates
The Palos Verdes Estates community is a master-planned 4.75-mile city along the Southern coastline of the Pacific Ocean. It's a charming little town and the oldest of the four Palos Verdes Peninsula cities. It has two small commercial areas and predominantly consists of single-family homes built in the 1950s–1970s.
Palos Verdes Estates offers breathtaking views of the Pacific Ocean and the Los Angeles Basin thanks to its elevated location. The Estates is about 45 minutes from Long Beach, 55 from Santa Monica, and 50–85 minutes from Downtown LA.
Palos Verdes Estates was initially part of the 1846 land grant and was primarily used for cattle farming. It became an American-owned land parcel when Frank Vanderlip, a renowned New York banker and real estate developer, took over. Although small, Palos Verdes Estates is also eclectic, and each of its sub-areas has distinct qualities. Stop by these must-see spots:
Commonly referred to as the glass chapel, the Wayfarers Chapel is a stunning glass structure on the cliff right by the ocean. The church was established as a memorial for Emanual Swedenborg and took 11 years to complete. It's an Instagram-worthy spot popular for wedding photography.
Located on the coastline, the Abalone Cove Shoreline Park features two beaches; the Abalone and the Sacred Cove. It encompasses striking tide pools, picnic areas, caves, and hiking trails. The park also features a State Ecological Preserve for animals and marine life.
Beverly Hills
The city of Beverly Hills is one of the most famous Los Angeles suburbs. The suburb is conveniently perched between Los Angeles and the city of West Hollywood and is also a short drive from Santa Monica and other hot tourist destinations.
The town's large celebrity population, Mediterranean climate, palm-tree-lined streets, and a generally lush landscape are some of the reasons it continues to be highly popular. It's a premier location for high-end businesses and boasts an array of renowned employers such as MGM Studios and Saks Fifth Avenue, meaning growth opportunities are in plenty.
As one would expect, Beverly Hills has some of the best shopping spots. A trip to Bel-Air's South Beverly Drive allows you access to everything you might need from high-end brands. On top of it all, Beverly Hills has unique green spaces. Visit these top spots:
Urth Caffé is a thriving restaurant popular for roasting tasty organic coffees and fine teas. The Caffe offers health-conscious menus and has been featured in plenty of movies and TV shows.
Beverly Gardens Park is an awe-inspiring park starting on Wilshire Boulevard to North Doheny Drive. It has beautiful cactus and rose gardens, fountains, and jogging trails. This is also where the famous Beverly Hills sign stands.
Santa Monica
The city of Santa Monica is the best Los Angeles suburb for anyone looking to lead a laid-back lifestyle without foregoing the convenience of a cosmopolitan center. It is named after Spanish explorers of the 1700s and has been a beach town since its early years. The city is nestled between the Pacific Coast Highway and Interstate Highway 10 and is only 13km from the Los Angeles International Airport and 20km from Los Angeles Amtrak.
It's truly a seaside town surrounded by magnificent oceanfront beaches, such as the Santa Monica State Beach, the Will Rogers Beach on the north, and the Venice Muscle Beach on the south. Popular entertainment joints include Santa Monica Place, a three-story outdoor shopping haven two blocks from the beach.
Some of the best neighborhoods include Wilshire, a 40-block locality with traditional-style homes, and Palisades Beach Road, an oceanfront community home to Santa Monica's most notable. Thanks to the wave of tech startups opening up in recent years, the city has a strong, diverse economy and is even fondly nicknamed Silicon Beach. Here are some of Santa Monica's top attractions:
Located in downtown Santa Monica, 3rd Street Promenade is an open-air shopping center just two blocks from the beach. It has an array of shopping and dining options and holds a weekly farmers market.
For nature lovers, the South Bay Bicycle Trail is a dream come true. It's the longest oceanfront bike path at 22 miles long. It starts at Will Rogers Beach and winds up at Torrance Beach.
Ready to Move to Los Angeles?
Los Angeles is a vast metropolis area with over 80 suburbs, each featuring its own distinctive characteristics. Redondo Beach and Santa Monica offer a laid-back feel and the convenience of an urban center, while Hermosa Beach has the charm of a small beach town.
Palos Verdes Estates reminds one of the small hidden towns where everybody knows everybody, while Beverly Hills, Culver City, and Glendale give you the surf n' sun vibes typical of Los Angeles. Weigh the pros and cons of identifying the best Los Angeles suburb before moving to Los Angeles. Is drive time a major factor? Here's a guide to drive times from Los Angeles suburbs to downtown.