4 Gated Communities With Easy Drives to Downtown Los Angeles
Posted by Courtney Korb on Wednesday, November 24, 2021 at 1:36 PM
By Courtney Korb / November 24, 2021
Comment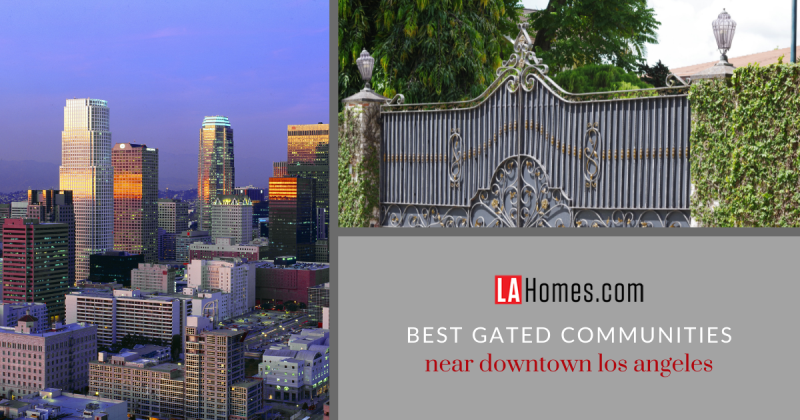 Downtown Los Angeles is a hub of activity. From the numerous financial and corporate headquarters that call it home to the heart of the entertainment industry, there are many reasons to want to live close to this area. One of the options available to many is purchasing a home in a Los Angeles gated community, which could include a guarded gated community or one with unmanned security in the form of automated entrance features. In all cases, gated communities provide the privacy and security many people seek out, especially when purchasing luxury homes in the area. Here are a few key gated community options closest to Downtown Los Angeles.
Fremont Place
Fremont Place homes comprise a beautiful community perhaps most recognized for the two iconic pillars that stand at its entrance. First developed in 1911, it was the first official gated community in the area. Today, it is home to numerous mansions and luxury homes, some of which are historic. The houses here are nearly all custom-built properties, with some offering a Colonial or Cape Cod style. However, most have seen numerous renovations and updates over their lifetime. Not all are old, either, with some new development since 2000 taking place here. In total, the area has about 73 homesites, which is up from the original 48 lots this area once had.
Freemont Place is about a 5- to 6-mile drive along W. 8th Street into Downtown Los Angeles. When there are low traffic times, that's only about 20 minutes. A secondary round along I-10 is another option, though it takes a bit longer due to traffic.
The area is close to many amenities, including the Greater Wilshire Hancock Park and the Wilshire Country Club. A few community parks and playgrounds exist nearby. The Los Angeles County Museum of Art is a short drive from this residential area as well.
Brentwood Circle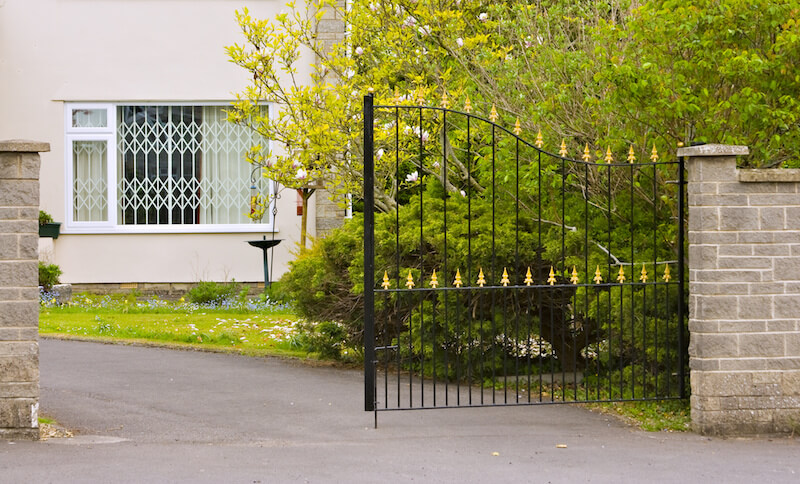 Brentwood Circle real estate is a guarded, gated community located just to the north of Sunset Blvd, which is one of it the main reasons people want to buy a home here—its location. The community has a number of larger homes, most of which are estates. Yet, the area has tree-lined streets with a welcoming, everyday feel. It's common to see people walking dogs and going for a stroll. Many of the homes here are French provincial or midcentury modern architectural pieces, though there are other styles present. The landscaping tends to be exceptional, and most homes have their own amenities, including lots of pools, tennis courts, and spas.
The Brentwood Circle area is about a 15-mile drive into Downtown Los Angeles. That typically takes about 25 to 30 minutes but can easily be double during high traffic times. The most direct route is along I-10. Traffic can be a problem during peak times, as well as on the weekends.
Brentwood Circle is close to the University of California Los Angeles, Getty View Park, and numerous shops, restaurants, and service providers. A few neighborhood parks exist in the area, too.
Valley Oak Drive
Homes on Valley Oak Drive are impressive for many reasons. It is the only gated community available within the Hollywood Hills area of Los Angeles, and it's highly desirable. Valley Oak Drive is just that—a drive within The Oaks community. The neighborhood is located near Bronson Canyon, which provides many of these homes with impressive views and outstanding amenities. Its location is also beneficial because it is near numerous parks and amenities, including Thai Town, Los Feliz, and the stunning area of Griffith Park, perfect for those who love the outdoors. Its secluded nature makes it an attractive option for celebrities looking to be close to the downtown.
The homes in this area are equally impressive, with larger land areas (meaning fewer homesites throughout) and ample green space. The houses were designed by Frank A Brown and were first built in the 1900s. There are some historic homes here, including the recognized home of Artemesia, which was an arts and crafts mansion built in 1913.
All of this is just about 7 miles to the heart of Los Angeles along Route 101. Valley Oak Drive is close to the Bronson Canyon Playground, Griffith Observatory, and Barnsdall Art Park, among many other amenities.
Bel Air Crest
Homes in Bel Air Crest are ideally located near the 405 Freeway along with the San Fernando Valley. This gated community is larger, with about 286 homesites within it. It's quite the resort-style place to live with a full clubhouse, entertainment areas, tennis courts, putting greens, and much more—it's one of the best amenity-filled gated communities in Los Angeles. As a larger area, it is also less private and secured than other gated communities, but the area's beautiful homes make it a desirable choice for some. Bel Air Crest has a number of single-family homes and areas of townhomes and condos, providing more versatility.
Bel Air Crest is about an 18- to 19-mile trip into Downtown Los Angeles, along I-10. In good traffic, that's about 30 minutes, but it can triple in time at other times of the day. Still, it's ideally located between the Ocean and LA, making it desirable. It's also close to Westridge Cayonback Wilderness Park, MountainGate Country Club, and Getty View Park, among other green areas along the 405 Freeway.
Finding the Ideal Place to Buy a Home Near Downtown Los Angeles
For many people, living in a gated community provides outstanding benefits. That includes having a bit more privacy and security. Though there are many homes near Downtown Los Angeles to choose from, many property buyers in this area often want more than just gated protection. It's important to dive in and take a closer look at all the area offers, including the neighborhood amenities, home styles, and proximity to important locations nearby. As such a diverse city, Los Angeles typically has something to meet most people's needs. The key is just knowing where to find it.