Luxury Pool Accessories: 4 Must Have Accessories for Your Pool
Posted by Courtney Korb on Monday, July 25, 2022 at 1:24 PM
By Courtney Korb / July 25, 2022
Comment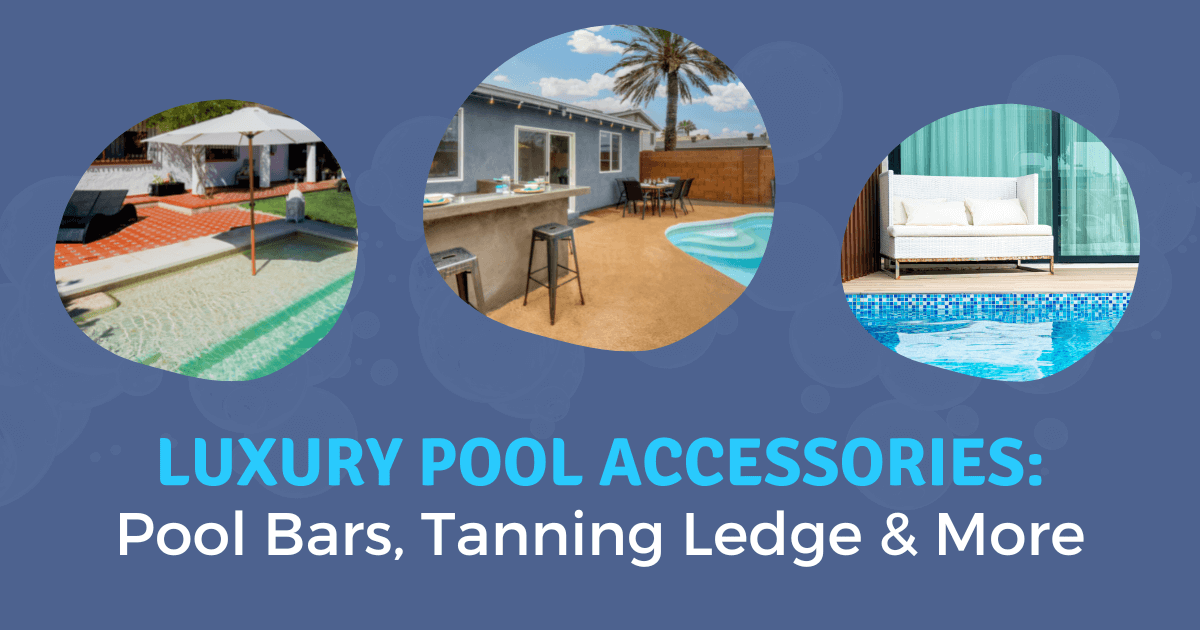 Having a home with a pool to enjoy with your household and share with your friends is a luxury, especially on those warm and sunny days. Whether the day is for lounging around and having a few cold beverages or preparing a meal designed for royalty, kicking back at an inground or above-ground pool can be a treat any day of the week with a few key investments. Here are some of the best pool accessories to spice up a backyard water-based respite.
Pool Bars Create the Ultimate Pool Parties
A sweet glass of iced tea, cold soda, or a salty margarita might establish an optimal ambiance while relaxing poolside. Should the pool lack a bar, designing a beverage station in or around the pool can be a fun experience that brings out the exterior designer in homeowners. Here are a few inspirational ideas to ponder.
Install a Chic Tiki Bar
Add a bit of flair and a tropical vibe by designing your pool with a tiki bar. Homeowners can make this a weekend project with wood materials such as thatch, bamboo, and dried banana leaves to serve as a roof. While the design is simple, the area is sure to attract the attention of thirsty pool guests and is a way a pool can add value to a home.
Think About a Sleek & Modern Swim-Up Bar
Adding a swim-up bar is perfect for showcasing a stylish backyard pool area. Also known as wet bars, guests can simply "cruise" up to the bar when they want to quench their thirst for a self-serve experience or have their needs tended to by staff.
Go Wild For the Team: Build a Sports-Themed Bar
Show off that team spirit and have a great time with guests with a sports bar theme. There are televisions, arcade games, jukeboxes, and even popcorn machines that are water-proof and serve outdoor lovers the best of the best year-round. Put the game on, and let the fun begin!
Add a Tanning Ledge to Your Pool: Bring the Deck to the Water
The burning question might be: Go for the gusto in the pool or get a bit wet but not soaked? A tanning ledge might be the optimal solution and can also add value to a pool installation. Also referred to as a Baja shelf, tanning ledges allow one to soak in the sun without getting soaking wet.
As one of the most popular pool features, tanning ledges make for a versatile, multi-purpose zone where it's possible to catch some rays, be entertained, play games, or even relax with young ones who aren't quite ready to take on the deeper waters.
There are two types of pool tanning ledges: open and enclosed. Open tanning ledges are situated inside the pool and can serve as a second entryway. Sometimes, an open ledge is combined with stairs or multiple levels for those who desire more depth into the water.
Enclosed tanning shelves sit outside the pool and can be compared to a "kiddie" pool because they are ideal for young children. The barrier separates the ledge from deeper water and can prevent young kids from wandering into the larger pool.
Fire & Water Features Bring a Luxe Look to the Pool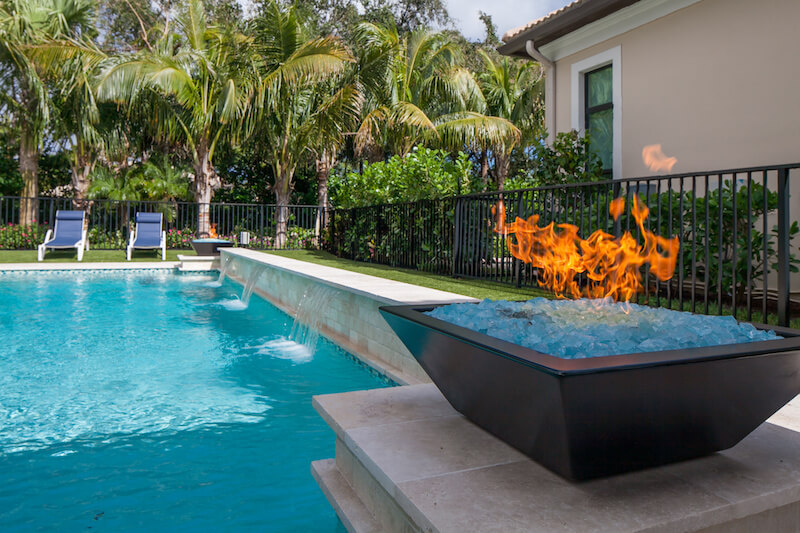 Consider adding fire and water features to take the backyard pool area to the next level. Fire bowls, pits, fountains, and waterfalls can transform the pool from fun to simply fabulous and create a showcase-worthy centerpiece for the landscaping.
Pool designers are taking things to greater heights of creativity with clever waterfall designs that establish a tropical feel on the edges of pools. Builders have also mastered the art of placing shooting fountains in and around pools that are complemented by LED lighting installations that can create a show for pool-goers after dark.
Those who love the warmth and ambiance established by glowing embers can invest in a versatile fire pit or take on a DIY fire bowl project that sits on top of a dedicated base or tabletop. Many water and fire features can do more than boost decorative interest—some can be functional, too! Water features can heat, cool, or aerate the pool, while fire elements can be used for warmth or small meal preparation.
Pool Patio Accessories: Perfect Pool Deck Furniture Ideas
Many homes or condos with luxury pools have a dedicated deck, cabana, gazebo, or pool house, and these areas can be spruced up with a few key pieces of patio furniture and some breezy decor. Expand seating options with comfortable furniture, such as:
Loungers
Rocking chairs
Swinging hammocks
Ottomans
Benches with hidden storage
Side tables
Keep in mind that outdoor furniture should have weatherproof cushions and be fade-resistant and chlorine-proof so they will last for years. To personalize poolside respites, add a few pillows to the seating, and consider investing in an outdoor rug to keep the heat from the feet while adding a bit of color to the area. These are also great ways to stage a home with a pool for sale.
Bring a Luxurious Feel to Your Outdoor Pool
Homeowners who want a great outdoor place to relax and entertain guests can monopolize their investment in a luxury home with a decked-out pool. They can make their backyard pool "the" place to be during those warm and sunny days. These four ideas are a great start, but there are no limits to the level of luxury owners can embrace.