In-Ground vs Above-Ground: Which Pool Is Best For Your Backyard?
Posted by Courtney Korb on Monday, June 20, 2022 at 11:09 AM
By Courtney Korb / June 20, 2022
Comment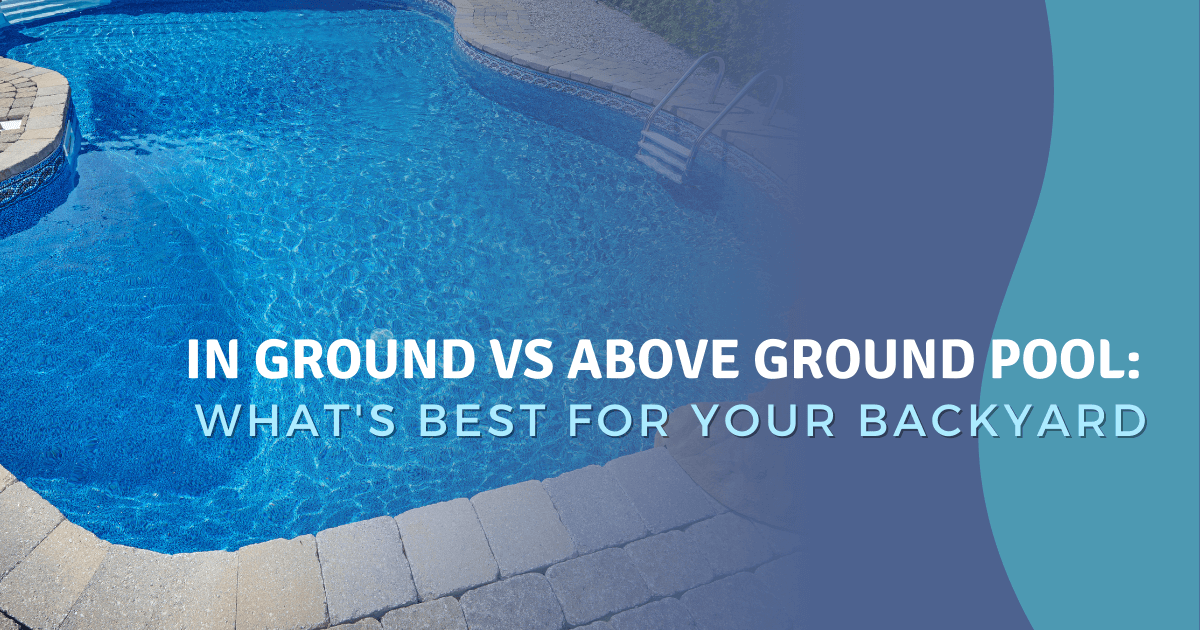 A home with a swimming pool offers a place to relax, exercise, and entertain. Yet, depending on how homeowners plan to use it and how many people will be regular users, owners must choose between installing an above-ground pool or an in-ground pool.
Another factor that buyers will need to consider is the cost of the installation, maintenance expenses, and the pool's potential return on investment. Keep reading to take a short dive into a side-by-side comparison of above-ground pools and in-ground pools.
Comparing the Cost of In-Ground vs. Above-Ground Pools
Several variables ultimately determine how much a pool will cost, as larger pools and those with high-end customization will be more expensive. However, an in-ground pool will likely cost more than its counterpart—even for a small plunge pool. In many cases, owners opt to get a top-of-the-line, above-ground pool rather than committing to a permanent installation.
Buyers will want to factor in installation costs beyond the initial cost for the pool itself. Many above-ground pools can be installed with a few tools and assistance from one to two other people. For larger models, it's wise to invest in a solid hard-shelled enclosure to protect the pool liner and motorized parts.
It's not feasible for most homeowners to do a self-installation project for an in-ground pool, as they require pool permits and extensive excavation. The process can take weeks to complete, so owners need to prepare for professional installation to minimize disruptions. Other costs to consider:
Using more expensive materials
Additional features like slides, fountains, and lighting
Side hot tubs
Safety fencing or protective covering
Redoing landscaping around the pool post-construction
The Installation Process
Those planning to install an above-ground swimming pool will want to ensure that instructions and a compatible tool kit come in the package. Overall, putting together an above-ground swimming pool doesn't take much longer than a day or two. When buying from a local pool company, they might include assembly with the price or have a set fee to get things set up correctly.
Above-ground pools can also be easily disassembled and moved to a new location. Another perk is that minimal groundwork is required, eliminating the need to disrupt nearby foliage and landscaping features.
In-ground pools will undoubtedly take longer due to digging the ground out to make way for the installation. While an in-ground pool is highly desirable and can add value to the home, owners should prepare to have a construction zone in their backyard.
How Many Customizations Will the Pool Have?
Pools come in many shapes and sizes, and homeowners can even buy a custom-made pool to showcase their style. Many want to design their pool area with ideas like surrounding decking, seating areas, and in-pool features. Popular custom additions for pools tend to gear towards in-ground pools, which have nearly unlimited upgrade options. Features that add ambiance and value to pools include:
Attached or separate spas
Diving boards
Waterslides
Colored LED lighting
Tanning ledges
Waterfalls
Spray features
Nice touches that add privacy are trellises with vining plants and generous foliage. Of course, the cost of each custom addition will vary regardless of whether the pool is above-ground or in-ground.
Pool Maintenance & Durability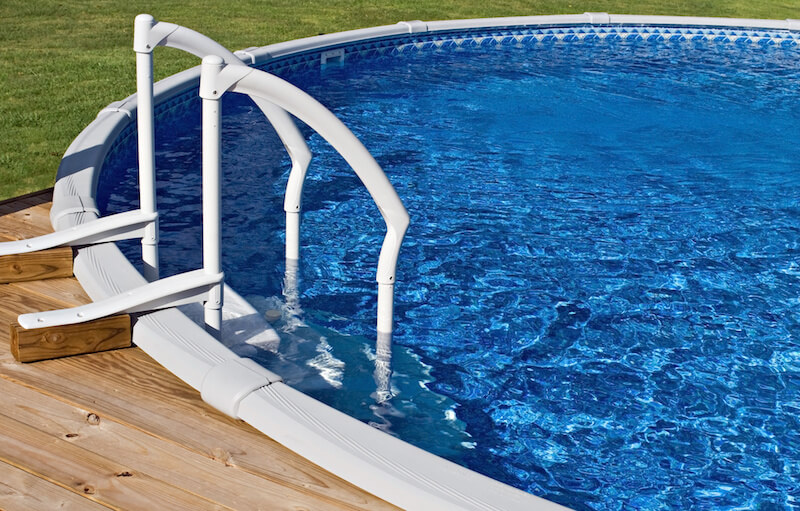 Using quality materials and choosing a superior supplier can impact the longevity of a pool. Of course, properly maintaining the pool itself is another key to getting more years of enjoyment from the installation.
On average, an above-ground pool can last 10 or 15 years. Typically, homeowners can make affordable repairs should the motor malfunction or the liner become damaged. In-ground pools can last several decades with proper upkeep, and they are far more resilient than standard above-ground pools.
Homeowners can periodically refinish the cement surface of in-ground pools as needed. Should the ground shift, cracks can occur in the walls or flooring, but these can be repaired by a professional. Should an above-ground acrylic pool crack, the entire lining might need replacing, which can be somewhat costly.
The key is maintaining the proper pool chemical balance, routinely cleaning the water, and having periodic inspections to find any hidden flaws in the system. Overall, the upkeep of both styles of pools is similar, but in-ground pools require a bit more effort than a smaller above-ground pool.
How Much Value Do Pools Add to a Home?
According to statistics from HouseLogic, an in-ground swimming pool can see a return on investment of just over seven percent. Above-ground pools may be a selling point, but owners are unlikely to find them to add any realized value to the selling price. For homes with pools in sunny climates that can be used more often, sellers may see an excellent return and increased interest in their property.
Homes located in popular vacation destinations may also find that adding a backyard pool is a solid investment. Before buying a pool, it's a good idea to know the local market to determine how much value a pool may add to a home's appraisal and marketability.
Enjoy the Benefits of Having a Backyard Swimming Pool
A private pool can be enjoyed solo or with others and can even be a place for entertainment and relaxation. When choosing between an above-ground or in-ground pool, consider budget, space, time constraints, and upkeep along with your lifestyle. An excellent way to get started is to visit a local pool retailer to view models and options that will fit your budget.